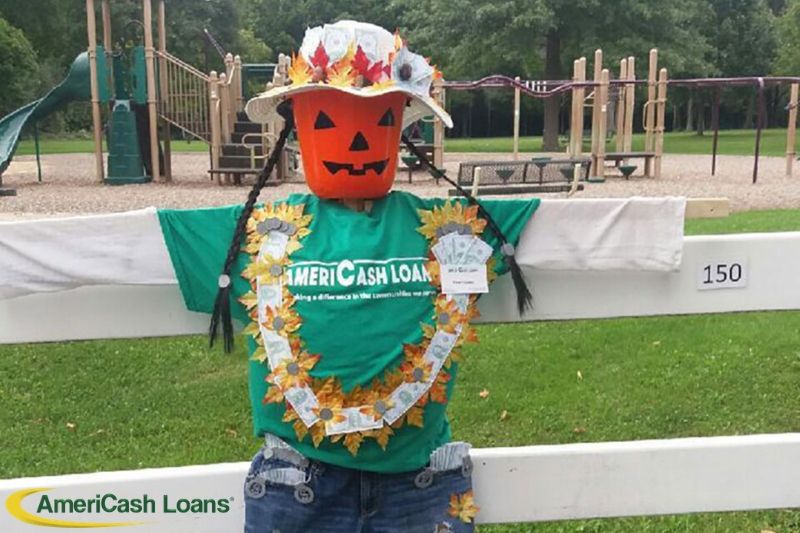 AmeriCash Presents Penny the Scarecrow
"AmeriCash Loans"
Illinois
---
With Halloween nearly approaching, it's time to get into the Halloween spirit. The great employees at the AmeriCash Loans Bradley location decided that it would be great to participate in the Scarecrow Hollow Contest at Perry Farmhouse. For the Scarecrow Hollow Contest, there are a maximum of 150 scarecrow entries. These scarecrows will ultimately be judged based on categories such as: business/nonprofit, school/youth, individual/family, and People's Choice. The best thing is, a cash prize will be given out to the winner of each category! It is great to see that scarecrows are not only being decorated by individuals and schools, but also by businesses who are getting involved with the surrounding community. As for the People's Choice votes, anyone can purchase a vote for $1 and they will be able to vote on which scarecrow they think is best. All of the proceeds for the People's Choice votes will be going to Presence St. Mary's Breast Health Center.
Now for our AmeriCash Loans scarecrow! Those who created and decorated our scarecrow decided on giving it the name Penny. She is dressed to impress with a slick AmeriCash Loans t-shirt, a necklace made out of dollar bills, and pockets full of cash! She surely is ready for the upcoming Halloween season!
One thing that we thoroughly enjoy at AmeriCash Loans is getting involved with the community. Being able to interact with those who we are serving is very important to us. We truly want to show how much we really do care about the individuals and the communities that we operate in.
If you are looking for a little extra cash for this busy holiday season, visit us at
www.americashloans.net
or visit one of our multiple
store locations
.