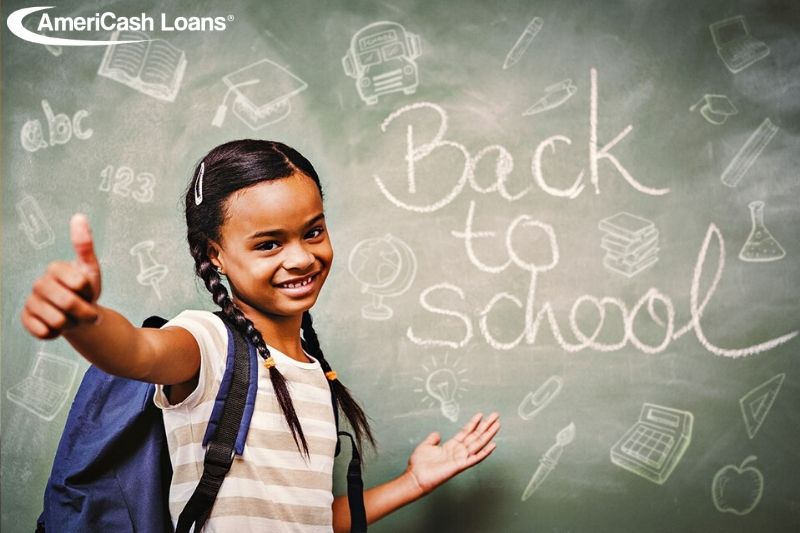 Back to School on a Budget
---
With summer flying by it's time to start putting together your school supply list. Back to school shopping can be a very expensive occasion. On average back to school shoppers spend roughly $600 per year to prepare their students for the first day of school. If you're gearing up for some back to school shopping, AmeriCash Loans has put together a few ways to help you save some cash this school year!
Cash > Credit Cards
Setting a budget is crucial to assuring your back to school spending does not exceed your means. One way to assure you will not break your bank is to use cash rather than credit cards when buying school supplies. Having cash in hand allows you to keep track of exactly how much you are spending on your back to school essentials.
Treasure Hunt!
Believe it or not a majority of the school supplies needed to start the new school year are hidden in your cabinets, closets and drawers. It is important to round up all of the left over school materials that may have been lost over the long summer break. You will be surprised how many pens, pencils, and notebooks you may come across while doing your own school supply inventory.
Start at the Dollar Store or Five Below!
You would be surprised just how many items you can find for under a dollar or five. Dollar stores and the latest trend, Five Below and the like, offer irresistible bargains that are sure to cut the cost out of your school supply budget. This is a great spot to buy all of the basic items your student will need for his or her first day!
Find the Sales on Clothing!
The best deals on clothing normally occur a few weeks after your student has already gotten back to school. Get the biggest bang for your buck by buying only the clothing that your child will need for the first months of school. A wide range of seasonal sales on fall jackets, denim and sneakers go into effect at the end of September, giving you the opportunity to fill in the blank spots in your student's wardrobe at a discount.
Shop on Tax-Free Days
In Late July and Early August some states offer tax-free shopping as an opportunity to buy back to school necessity without the burden of sales tax. These types of holidays are a great opportunity to save some cash because sales tax can really add up. Check out your state tax-free dates
here
:
Missouri- August 7-9 | Oklahoma - August 7-9 | South Carolina - August 7-9 | Georgia - July 30-31
If these cash saving tips don't do the trick and you're still struggling to meet your school supply needs, AmeriCash Loans can provide you with funds to make your back to school shopping a success.
Apply now
to get started!