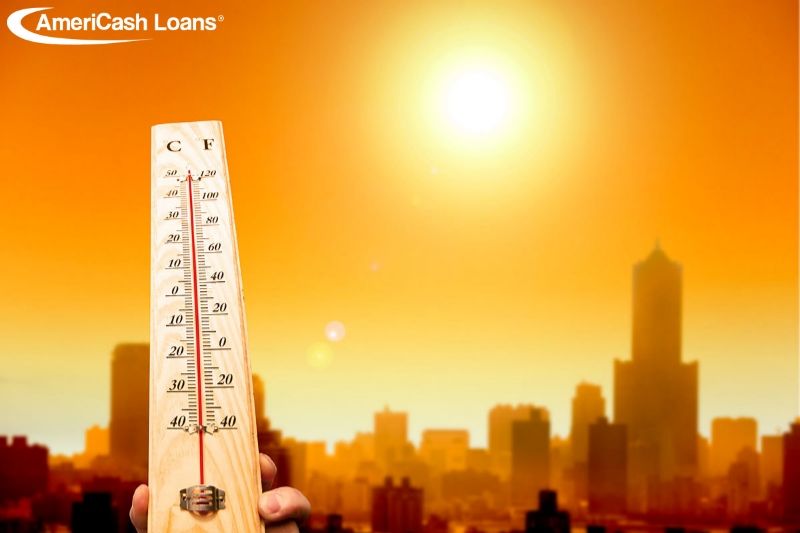 Tips to Beat the Midwest Heat Wave
Illinois
"Tips and Tricks"
Wisconsin
---
AmeriCash Loans has some tips to share with you to keep you safe during extreme heat during the summer!
Drink Water…Drink More Water
The first essential to staying cool during the heat wave of 2016 is to drink plenty of water. While this may seem rather obvious you would be surprised how quickly heat exhaustion can over take the human body. Water will keep your body temperature down and should drink even if you are not particularly thirsty. A great tip to keep track of how much water you are actually drinking is to download a water drinking app on your phone. The apps are designed to give you a notification when you need to drink more based on the temperature in you region.
Wear Lighter Clothing
When preparing to go outside and endure the heat wave be sure to put a lot of thought into what you are wearing. It's important to wear clothing that is made of light breathable materials. Clothes made of cotton or synthetic sweat wicking materials work best in the extreme heat. These fabrics will keep you cool and absorb sweat. Another important factor to think about when picking you clothing is to shy away from dark colors. Unlike dark colors, light colors will reflect the sun much better and will help your body stay cool.
Utilize Air-Conditioned Places
Over the next few days try to spend as much time as possible indoors in Air-Conditioned settings. Be sure to visit public buildings if you do not have air-conditioning in your home. A number of heat centers in Chicago have been opened so make sure to find and plan to go to the center nearest to you if you can't beat the heat.
If these tips aren't enough to keep you cool throughout the heat, AmeriCash Loans can help you get cash to ensure you stay cool. Visit one of our
locations
or our website to
apply
for a loan today!