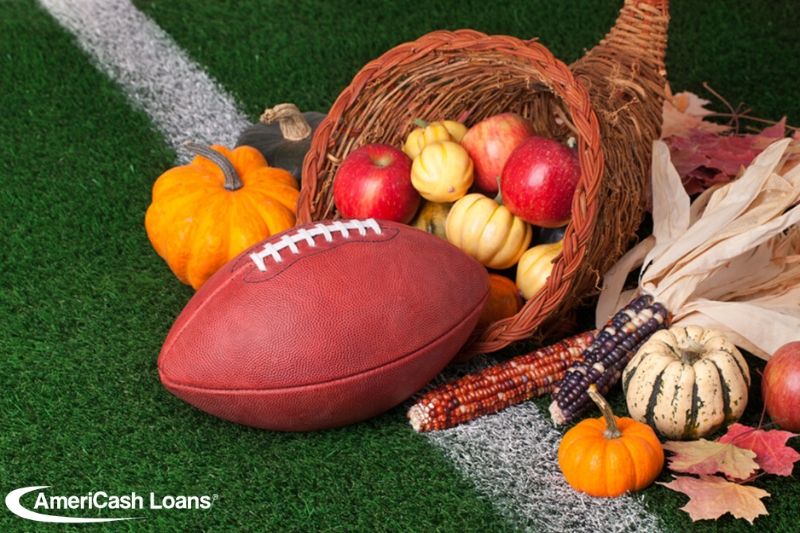 Thanksgiving Football Guide 2016
---
When we think about Thanksgiving many different thoughts come to mind. For us we think about Family, Friends, the Feast and last but not least Football. Since the first NFL Thanksgiving game in 1935 football has been a turkey day tradition. There is really nothing better than watching some football on the couch after eating your fair share of Thanksgiving food. AmeriCash Loans has ranked each turkey day game in terms of watchability from least to greatest so you know exactly what's on the viewing menu this Thanksgiving.

4. LSU (6-4) vs Texas A&M (8-3) 6:30 CT – ESPN
If you are the type of person who likes to change the channel in-between commercials then this is the game for you. If this game took place a few weeks ago it would be in consideration for the best game of Thanksgiving Day. Unfortunately, both teams have suffered close losses in their last few SEC conference games which has eliminated them from SEC championship contention. While the implications of this game are diminished it is still an interesting matchup. Both teams feature potential top 10 draft picks in this year's upcoming NFL draft. If you decide to tune in be sure to keep an eye on standout stars Myles Garrett (#15 Texas A&M) and Leonard Fournette (#7 LSU) they do not disappoint.

3. Pittsburgh Steelers (5-5) vs Indianapolis Colts (5-5) 7:30 PM CT – NBC
Prior to the kickoff of the 2016/17 NFL season both of these teams could have been considered Super Bowl contenders coming out of the AFC. Unfortunately, up to this point in the season both teams have battled major injuries which have impacted their win-loss records to this point. The good news is that many of the injured key players for both teams are back in action. With that being said this game is sure to be tightly contested and definitely worth the watch.

2. Minnesota Vikings (6-4) vs Detroit Lions (6-4) 11:30 PM CT – CBS
It wouldn't be Thanksgiving football without the Detroit Lions. Every single year Ford Field in Detroit hosts the first game of the day. This year is different than past years because the Lions are actually competitive. This match up features the two teams currently tied for first place in the NFC North. You won't want to miss this game which is sure to be a nail-bitter with serious playoff implications.

1. Washington Redskins (6-3-1) vs. Dallas Cowboys (9-1) 3:30 PM CT - FOX
The Dallas Cowboys are by far the hottest team in the NFL this year. They have dominated their opponents and looked poised for a Super Bowl run. Rookies Dak Prescott and Zeke Elliott are breaking records and playing like bonafide superstars only 10 games into their respective NFL careers. While the Cowboys have been stealing the spotlight all year the Redskins have gotten off to an impressive start as well. This marks the 114th meeting between the two bitter rivals and it is sure to be the best game on the Thanksgiving schedule.