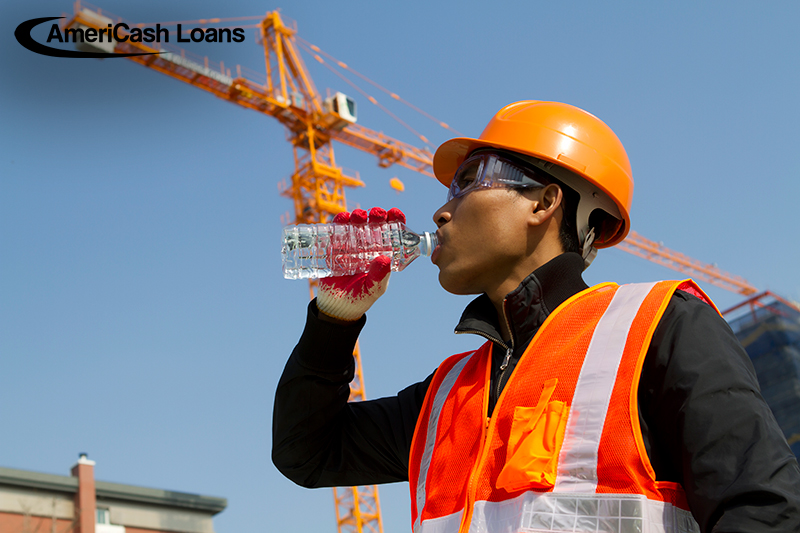 AmeriCash Loans Partners with Charleston, SC Radio Stations for Cold Water Van Hits
"AmeriCash Loans"
"Giving Back To The Community"
---
Do you live in Charleston South Carolina? The Lowcountry is expected to experience some of the hottest temperatures in years this summer. If you have to work outside in this heat, AmeriCash Loans is here to help. We have partnered with great radio stations in Charleston to participate in the "Cold Water Van Hits." We will be bringing ice cold water to listeners who are working in the sweltering temperatures! Be sure to listen to Magic 107.3, Z93 Jamz, NASH-FM 96.9 or 95sx as you work this summer for your chance to get ice cold water delivered to you by one of your favorite local DJs!
If you are looking for a fun staycation in South Carolina this summer, look no further! Here is a list of things you can do for free or next to free. Check out our guide to staycationing in Charleston, South Carolina on a budget!
Enjoy the Outdoors at Battery Park & White Point Gardens
White Point Gardens at Batter Park, located in downtown Charleston, South Carolina at the corner of East Battery and Murray Blvd. offers visitors a chance to enjoy nature and take in the city's rich Revolutionary and Civil War histories. Battery Park is one of the most well-known historical sites in South Carolina, and provides views of both Fort Sumter and Charleston Harbor, where the Ashley River empties into the Atlantic Ocean. The raised Battery Path that runs through the park is shaded by South Carolina's famous ancient oaks and palmettos, and looks out at waterfront mansions. During your time at Battery Park and White Point Gardens in Charleston, you may even see dolphins swimming along the shoreline. Battery Park and White Point Gardens are free to visit and offer enough nature and history to take up a good part of the day – a great way to get closer to your family on your budget vacation.
Relax at Folly Beach
Want to take a relaxing beach vacation on a budget? Look no further than Folly Beach, a quaint, seaside town just 20 minutes from downtown Charleston, South Carolina. Folly Beach is home to many local restaurants that serve up food the Charleston way. The town's beaches are 100% family friendly, as no alcohol is allowed. The beaches offer chairs, umbrellas, Jet Ski rentals, and even surfing lessons to those who are adventurous enough to take them. It's free to visit Folly Beach, and most street parking is free as well. Folly Beach is a great destination for the entire family with something for everyone.
Walk Through the French Quarter
Charleston, South Carolina's French Quarter District is a downtown neighborhood that sits on the National Register of Historic Places because it contains the original walled city of Charles Town, preserved to look much as it did at the city's founding. It's historic buildings and cobblestone streets are a treat for photographers and anyone who loves old world beauty. The French Quarter was named for the plethora of French merchants that held shops there in the city's early years, and now contains some of the most luxurious inns and restaurants in all of Charleston. The Quarter is bounded by the Cooper River on the east, Broad Street on the south, Meeting Street on the west, and Market Street on the north. It's free to walk through the French Quarter and look at the buildings and monuments, and makes our list of the essentials for a budget vacation in Charleston, South Carolina.
Take in the Angel Oak
Even if you don't know the Angel Oak by name, you've surely seen photographs of Charleston's famous 1,500 year old Live Oak tree. The massive tree lives on John's Island and is open to the public to visit for free. Visitors can walk around the tree, picnic on the grounds, or take photographs of this amazing work of nature. The Oak is 65 feet high, 26 feet around, and provides shade under its branches for an area of about 1,700 square feet. The whole family can wonder at this incredible specimen as part of your Charleston budget vacation.
Enjoy Charleston's Rich Art Scene
It's nearly impossible to take in Charleston, South Carolina's abundant art scene all at once, but the Charleston Gallery Association's art walks come close. Four times a year, on the first Friday in March, May, October, and December, 40 art galleries in Charleston's French Quarter open their doors and provide refreshments to gallery-goers for free. On each of these Fridays, just stop into a gallery, pick up a map of the art walk, and wander at your own leisure through the French Quarter. This is a perfect way for art lovers to enjoy Charleston's rich art scene for free as part of their budget vacation.
Visit the Charleston Tea Plantation
The Charleston Tea Plantation, operated by Bigelow, is the only functioning tea plantation in the United States. Visitors can take in the 127-acre farm, plantation, factory, and gift shop for free. For just $10 for adults and $5 for children, guests can take a trolley tour through the entire plantation, narrated by the owner himself. The plantation and farm grows more than 300 types of tea plants and offers flavors such as Governor's Grey, Charleston Breakfast, and Plantation Peach. This is a unique stop that you won't find anywhere else in the United States, and an essential part of any budget vacation to Charleston, South Carolina.
Visit AmeriCash Loans in Charleston, South Carolina
If you need extra cash and you live in Charleston, South Carolina, stop into either of our two AmeriCash neighborhood locations. The friendly staff at both the
Charleston
and
North Charleston
locations are happy to answer any and all of your loan-related questions and to assist you in using the convenient, in-store customer kiosks to apply for a loan. If you can't make it into one of our stores,
apply online
!
Be sure to listen to Magic 107.3, Z93 Jamz, NASH-FM 96.9 or 95sx if you are working outdoors this summer and you could be visited by our Cold Water Vans!