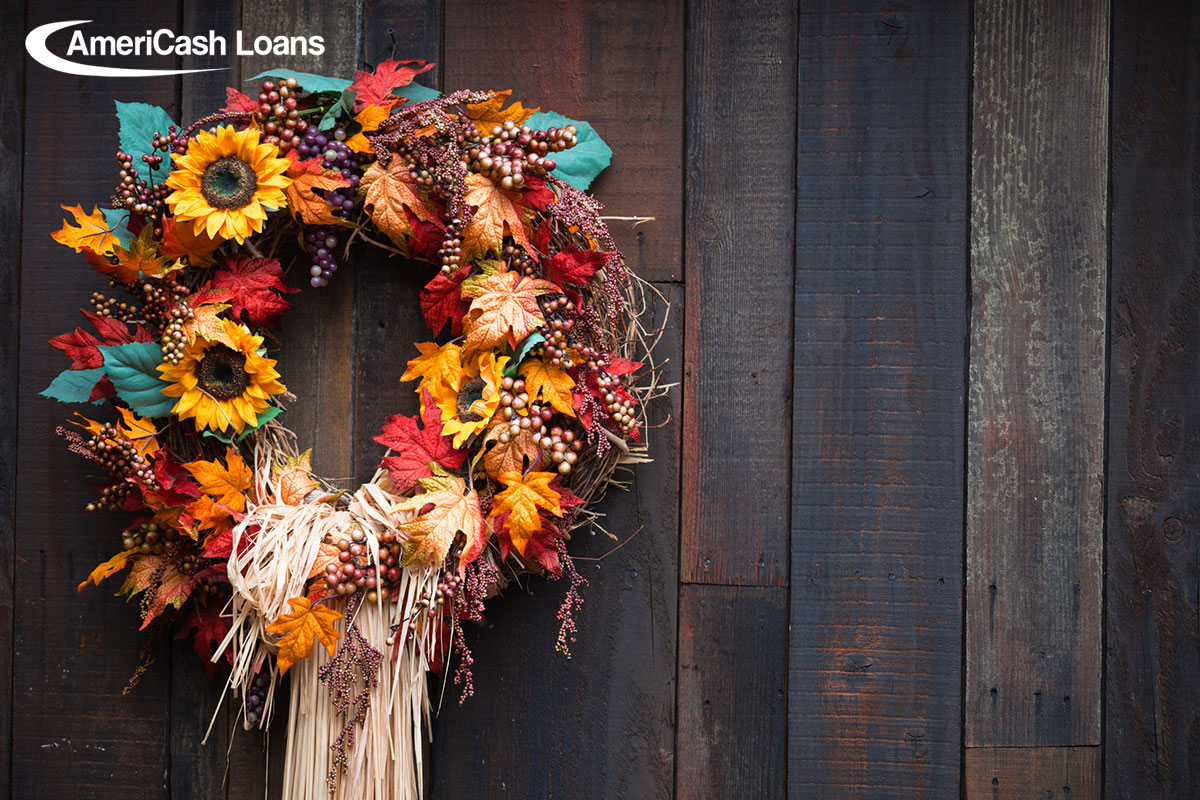 Budget Hack: DIY Fall Décor
---
As we work our way through August, summer is slowly fading into fall. Temperatures are cooling and it's almost time to start drinking cider, carving pumpkins, and raking leaves. During autumn, it's fun to make the inside of your home feel as festive as the leaves outside, and decorating your house doesn't have to mean spending a lot of money. You can save cash by getting creative making your own Fall décor this year. We've got some ideas below to help get your creativity going!
Make Your Own Wreath
One of the most festive ways to get into the season is to hang an autumn wreath from your front door. However, pre-made wreaths that you buy from the craft store can get very pricey. You'll save money by buying all of the elements of a wreath and putting them together yourself. Plus, when you pick your own wreath shape, decorations, and ribbon, you'll get the chance to make your DIY fall door wreath unique.
DIY Foraged Centerpiece
Making your own centerpiece is easy and you'll save money that you can put toward visiting fall festivals or shopping for the holidays. The autumn outdoors are your greatest resource for a beautiful, festive decoration that'll give your table some fall flair. Use a bowl or container you already have. This can be anything from a wooden serving bowl to a glass flower vase. Then, head outside and gather leaves, pinecones, acorns, twigs, and any other natural materials you want for your DIY fall centerpiece. Arrange your materials creatively in your container, add some fairy lights or holiday lights from the dollar store, and voila! You have a beautiful DIY centerpiece that will last for many autumns to come. The best part? You created it without breaking your bank.
DIY Fall Wall Art
Replacing your regular art with fall art is a great, quick, easy way to make the inside of your house feel festive, and there are many ways to make your own art. If you have kids, have them paint or color fall-themed pictures to hang around the house. You can also find items like buttons at garage sales and thrift stores and glue them together on a canvas in the shape of a leaf or other fall item. If you have old calendars laying around, cut out the pictures from the fall months and frame them. Your options are as boundless as your creativity when creating DIY fall wall art.
Make Your Own Candle Substitute
Who needs expensive candles when you can achieve the same effect with a few inexpensive items from the grocery store? Save money by buying cinnamon, clove, orange peel, bay leaves, vanilla, or anise at the grocery store. Then, put your items into a pot of boiling water or crock pot and let them simmer. Before you know it, your whole home will smell like autumn.
If you've had your eye on a special decoration for fall or just can't make ends meet, turn to
AmeriCash Loans
.
Apply in store
or
online
to get the cash you need as soon as next business day.