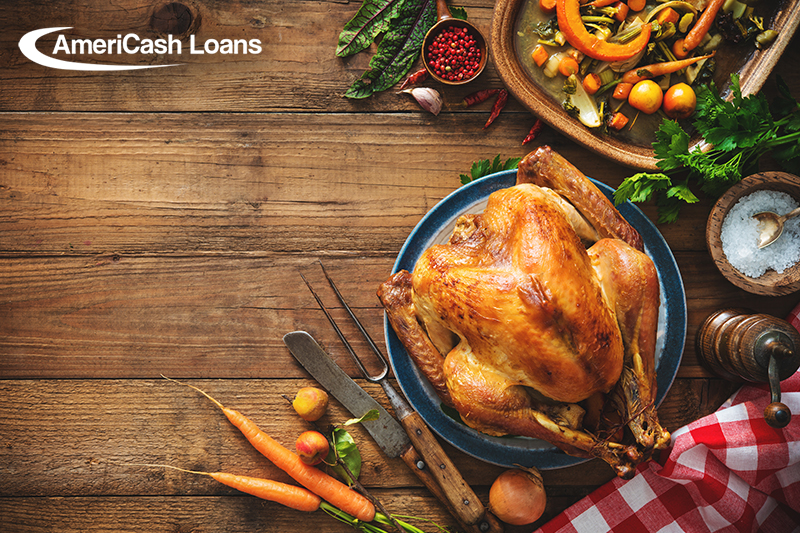 Have an Affordable Dinner with These Thanksgiving Recipes
---
Thanksgiving is the start to the exciting holiday season. Since you already have a lot on your plate (pun intended) with Christmas gifts and holiday parties, making Thanksgiving dinner should be stress-free and affordable. We put together a collection of Thanksgiving recipes for side dishes that won't break your budget so you can rest easy before the big meal.
Potato Crisps with Chive Sour Cream Dip
This easy Thanksgiving recipe uses the skins of Yukon gold or russet potatoes, which are most likely incorporated into your Thanksgiving dinner already. Just add a couple more ingredients that you already have in your kitchen and you get an affordable and irresistible Thanksgiving appetizer!
Ingredients:
2 tablespoons snipped chives
freshly ground pepper
salt
2 tablespoons freshly grated Parmigiano-Reggiano cheese
1/2 cup low-fat sour cream
3 cups canola oil
Thick peelings from 3 pounds of Yukon Gold or russet potatoes (roughly 1-by-3-inch strips)
Directions:
Preheat the oven to 350°. In a large saucepan over moderately high heat, heat the oil to 360°. Fry the potato skins in batches, stirring occasionally, until browned and crisp, 2 to 3 minutes per batch. Using a slotted spoon, transfer each batch of potato strips to paper towels to drain, then sprinkle with salt immediately. Transfer the potato strips to a baking sheet and sprinkle them with the grated Parmigiano-Reggiano. Bake for 3 to 4 minutes, just until the cheese is melted. Let the crisps cool, then transfer to a bowl.
Sour Cream Chive Dip
In a blender or processor, puree the sour cream with the chives and a pinch of salt and pepper until the chives are finely chopped. Transfer the dip to a bowl and serve!
Sour Cream Mashed Potatoes
What is a Thanksgiving dinner without mashes potatoes? The answer is, a bad one. Since you already have the potatoes and the sour cream from your previous Thanksgiving recipe, this dish is as affordable as they come!
Ingredients:
1 potato per person
Sour Cream
Milk
Butter
Chives
Cheddar cheese
Directions:
Start by peeling and cutting about one potato per person into cubes. Boil the potato cubes 15 to 20 minutes, or until extremely tender, then drain and place in a mixing bowl. For five to 10 servings, add 4 to 6 tablespoons of sour cream, 2 to 4 tablespoons of milk, and 2 to 4 tablespoons of butter, according to taste. Blend with a mixer until perfectly creamy and add a pinch of salt and pepper. As a final touch, top with fresh chopped chives and shredded cheddar cheese.
Old-Fashioned Stuffing
This is another Thanksgiving recipe that cannot be left off of the menu. Instead of trying to get fancy with stuffing, use this old-fashioned recipe as a more affordable option. If you plan far enough in advance, you can use the ends of the loaves of bread you use on a daily basis and freeze them until it's time for Thanksgiving dinner. That way, you don't even have to buy the main ingredient.
Ingredients:
3-4 loaves of white bread
Water
Chicken broth
Turkey giblets
2 bunches celery
1 onion
2 Tbs. butter
1/2 tsp. sage
Directions:
The night before, break the bread into small pieces (about 1 inch squares) into 2 huge bowls or pots. Let the bread sit overnight to dry out. The next day, after you remove the turkey's giblets, boil the giblets in water in 2/3 qt. sauce pan until cooked (about 20/30 minutes). Remove giblets for later use or discard. Set giblet cooking water aside. Preheat oven to 350 degrees. Chop onion and celery and place into food processor until minced. Melt 2-3 Tbs. of butter in large saucepan. Sauté onion and celery until heated through. Do not brown!
Depending on how much stuffing you want and how much celery and onion you've chopped, you may have to sauté the onion and celery in two parts. Once cooked, pour the onion/celery mixture directly over the dried out bread. Pour 1/2 tsp. sage over bread/onion/celery mixture. Using the reserved giblet cooking water, pour slowly over bread. The bread will shrink as you do this. Be careful not to pour too much water in. Mix thoroughly and smell/taste for perfect stuffing. If you need more liquid, open a can of chicken broth and pour over bread. If you need more spice, add more sage.
Once stuffing is of a consistency that it will stick together and does not look too dry, do not add more liquid. Either stuff in turkey to be baked in oven, or put in 9x13 pan. Bake in 350 degree oven for 45 minutes to an hour. You want the stuffing to have a nice brown crust on top.
Green Bean Casserole
This classic recipe is a Thanksgiving dinner favorite. The best part is that all you need is a handful of affordable ingredients!
Ingredients:
1 can (10 1/2 oz.) Condensed Cream of Mushroom Soup
3/4 cup milk
1/8 teaspoon black pepper
4 cups cooked cut green beans
1 1/3 cup crispy fried onions
Directions:
Mix soup, milk and pepper in a 1 1/2-quart baking dish. Stir in beans and 2/3 cup Crispy Fried Onions. Bake at 350°F for 30 minutes or until hot. Stir. Top with remaining 2/3 cup onions. Bake 5 minutes until onions are golden.
To go all out for your Thanksgiving dinner, visit your
local AmeriCash Loans
. We make getting installment loans of up to $4,000 easy.
Apply today
!