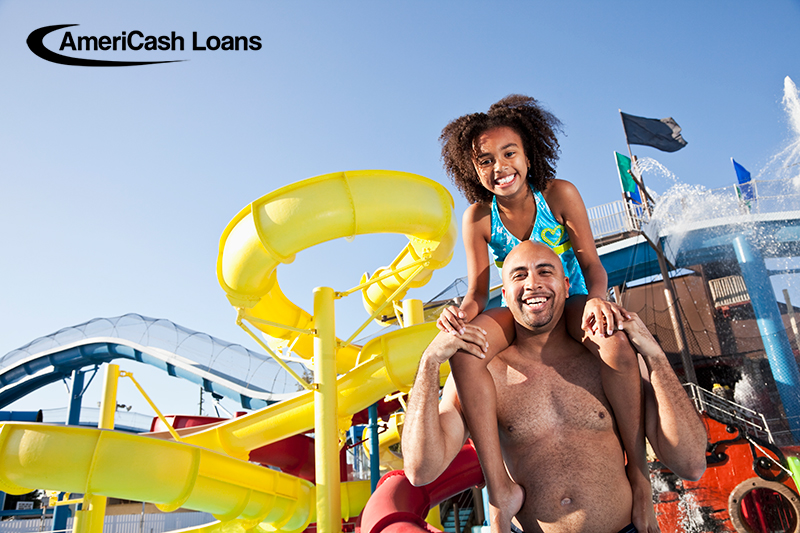 The Best Waterparks in Your Area
Illinois
Missouri
"South Carolina"
Vacation
Wisconsin
---
One of the best parts about summer is the weather, but sometimes it can get too hot. What better way to cool off than at a waterpark with friends and family? They are affordable, fun, and a great way to enjoy the summer weather before it ends. Check out AmeriCash Loan's list of the best waterparks in Wisconsin, Illinois, Missouri, and South Carolina.
Wisconsin
Noah's Ark Waterpark
Wisconsin is sometimes referred to as "The Waterpark Capital of the World" for good reason! They have the largest concentration of indoor/outdoor waterparks of anywhere in the world at the Wisconsin Dells. Not only do they have the most waterparks, they also have the largest in America, Noah's Ark. This waterpark has over 80 activities for the family including two wave pools, two endless rivers, and even a 4-D movie theater. Spread out over 70 acres, Noah's Ark has something for the whole family.
Kalahari Resort Waterpark
Located outdoors as well as indoors, the Kalahari Resort is another exceptional waterpark in Wisconsin. The world's largest indoor/outdoor water park also doubles as a family-friendly resort! If you are coming from out of town, you don't have to go far to find great lodging and entertainment. The indoor is just as much fun as the outdoor! If you are craving a summer activity in the cold winter months, this is the place for you.
Illinois
Hurricane Harbor
The best part about this waterpark is that it is a part of Six Flags in Gurnee, IL. Not only can you enjoy rollercoasters this summer, but you can also chill out in the wave pool afterwards! If you are a season pass holder, Hurricane Harbor is free. If not, it is still only an extra $10 from your regular admission to Six Flags.
Magic Waters Waterpark
Located just outside of Rockford, one of the best waterparks in Illinois is Magic Waters. It is most famous for its Double Dare Drop, a 75-foot slide that is over in just a few seconds! If you go during a weekday, admission is only $20 per person, with children 2 and under only costing $5.
Missouri
Silver Dollar City White Water
This location makes AmeriCash Loan's list of best waterparks in Missouri because of its thrilling attractions. Their Kalani Towers drop slides feature a 75-foot free fall where you can reach speeds up to 40 mph! If you aren't a daredevil, don't worry there are still plenty of relaxing rides including the Aloha River and the Surf's Up wave pool. There are also plenty of places to eat inside the park, but you can also pack a picnic to save money. Reentry is allowed if you keep your ticket.
Hurricane Harbor
Illinois isn't the only state with a Six Flags waterpark. Missouri also houses Hurricane Harbor in Eureka, MO with plenty of wet n' wild entertainment. This park features a slide called the Tornado which sends your raft into a giant funnel! Race your friends or family on the mat racers or just relax in the park's lazy river.
South Carolina
Myrtle Waves Water Park
Myrtle Beach is a popular summer vacation destination for families all over the US, for good reason. One of the main attractions here is Myrtle Waves Waterpark. With over 20 acres of entertainment, it is a must-see destination! Take a ride down the Thunderbolt Speed slides or hang out with the kids at Bubble Bay. Myrtle Waves has something for everyone.
Whirlin' Waters Adventure Waterpark
Located in North Charleston, South Carolina, Whirlin' Waters Adventure Waterpark is a great family destination this summer. The 300 –foot Tubular Twister is sure to please any thrill seeker. There is also a six lane mat slide where you can race your friends and a large interactive play area for the kids called Big Splash Treehouse.
To give your family the ultimate day at the waterpark this summer, visit your
local AmeriCash Loans
today or
apply online
. You can have your money today so you can enjoy fun in the sun tomorrow!