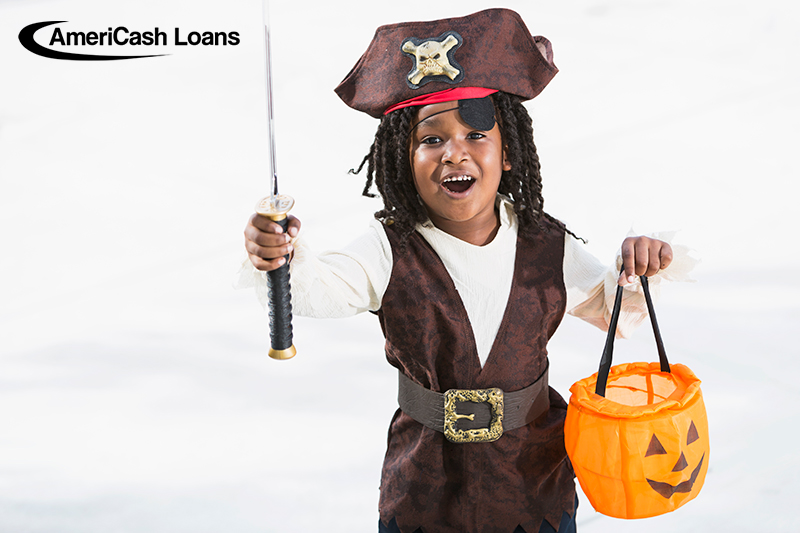 Cheap Halloween Costumes to Help you Save Money
---
Did you wait until the last minute to decide your Halloween costume? No worries! We have plenty of last-minute ideas that are creative and will also help you save money. One of the best parts about Halloween is dressing up for parties, work, or just taking your kids trick-or-treating! But with all the Halloween festivities, spending can get out of control, fast. Have a cheap Halloween this year with our costume idea that can be used for you or your kids!
Ghost
Being a ghost is a classic, easy and cheap Halloween costume. You probably already have a white sheet lying around in your house. Cut holes for eyes, and get creative from there! You can add put makeup on the face, or make it a "holy ghost" by adding multiple holes everywhere.
Error 404
If you already have a white t-shirt and a black permanent marker, this Halloween costume is not only cheap, but it's free! All you need to do is write "Error 404: Costume Not Found" on your white t-shirt. You can save money and time with this cheap Halloween costume.
Mummy
This cheap Halloween costume idea will only cost you as much as a roll of toilet paper. Wear white clothing and roll the toilet paper around you for the mummified effect. To make it scarier, use ketchup or red food coloring.
Vampire
All you need for this cheap Halloween costume is makeup that is a couple shades lighter than your skin, fake blood, and dark eyeliner. Dribble the fake blood on the side of your mouth, or near 'holes" on your neck if you were recently turned.
Static Cling
Do you have socks and dryer sheets? Great, that is all you need to be static cling! Pin the socks and sheets to your clothing however you can and mess up your hair. Balloons can also be helpful for this Halloween costume.
Grapes
Speaking of balloons, all you need are a few purple ones to pull off this cheap Halloween costume. Blow up the purple or green balloons and stick them to yourself! Save money on the leaves by making them yourself, or wear any other green head accessory!
Christmas Tree
If you would just rather bypass Halloween and go right to Christmas, this costume is for you! The best part is, all you need is last year's Christmas decorations. Wear a green dress or any other green clothing items, wrap garland around yourself, stick some ornaments to your clothes, and wear a large red bow on your head! You can save money on your Halloween costume for new Christmas decorations afterward.
Scarecrow
You won't be able to actually scare anyone with this cheap Halloween costume, but it will get the job done. Wear a plaid or flannel shirt, jeans, and a sun hat. For added effect, draw a scarecrow face with eyeliner on yourself and carry some cheap, fake sunflowers!
To go all out this Halloween, get the extra cash you need with a loan from
AmeriCash Loans
.
Apply in store
or
online
today and you could have your money as soon as tomorrow!