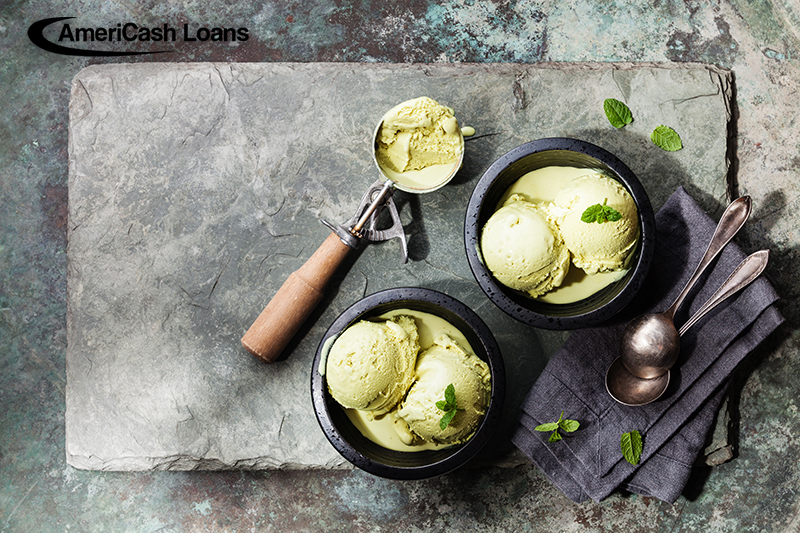 Cheap, Homemade Green Ice Cream Treats
---
National Ice Cream Day is Saturday, July 15
th
. No matter your favorite flavor, it's a great day to celebrate by eating the frozen dessert. We wanted to keep it green, so we found 5 green ice cream recipes that you're sure to love. The ingredients are all affordable, so making these green ice creams will keep green in your wallet, too.
Mint Ice Cream
(Recipe Courtesy of
Genius Kitchen
)
There's nothing quite as refreshing as mint ice cream on a hot day! For that added sweetness, add some chocolate chips. Here's a great mint green ice cream recipe in honor of National Ice Cream Day.
· 2 cups
nonfat milk
or 2 cups
low-fat milk
· 2 cups
heavy cream
· 1 cup
sugar
·
1
⁄
2
teaspoon
salt
· 1 teaspoon
vanilla extract
· 1 teaspoon peppermint extract
· 3 drops green food coloring (optional)
· 1 cup miniature semisweet chocolate chips
In a large bowl, stir together the milk, cream, sugar, salt, vanilla extract and peppermint extract until the sugar has dissolved.
Color to your liking with the green food coloring.
Pour the mixture into an ice cream maker, and freeze according to the manufacturer's instructions.
About 10 minutes into the freezing, add the chocolate chips.
About 30 minutes later, after the ice cream has thickened, spoon into a container and freeze for 2 hours.
Pistachio Ice Cream
(Recipe Courtesy of
Epicurious
)
If you love pistachios, you're in for a treat with this decadent pistachio ice cream recipe. Making your favorite frozen dessert is a great way to celebrate National Ice Cream Day.
· 1 cup unsalted shelled pistachios
· 3/4 cup sugar
· 2 cups milk (do not use low-fat or nonfat)
· 1/2 teaspoon almond extract
· 4 large egg yolks
· 1 cup whipping cream
· 3/4 cup unsalted shelled pistachios, toasted, coarsely chopped
Finely grind 1 cup pistachios and 1/4 cup sugar in processor.
Bring milk and ground pistachio mixture to boil in heavy large saucepan.
Remove from heat.
Mix in almond extract.
Whisk egg yolks and remaining 1/2 cup sugar in medium bowl.
Gradually whisk in hot milk mixture. Return custard to saucepan.
Cook over low heat until custard thickens and leaves path on back of spoon when finger is drawn across, stirring constantly, about 10 minutes (do not boil).
Strain into large bowl.
Chill until cold, about 2 hours.
Stir 1 cup whipping cream and chopped pistachios into custard.
Process mixture in ice cream maker according to manufacturer's instructions.
Transfer to container and freeze. (Ice cream can be prepared 3 days ahead.)
Key Lime Ice Cream
(Recipe Courtesy of
AllRecipes.com
)
Want to journey on a tropical vacation through your taste buds? Then Key Lime ice cream is perfect for you. Check out this ice cream recipe on National Ice Cream Day.
2 large eggs
1 1/4 cups white sugar
4 egg yolks
1 tablespoon lemon zest
2 1/4 cups half-and-half cream
3/4 cup lime juice
Whisk together the eggs, egg yolks, sugar, lime juice, and lemon zest in a saucepan over medium heat until well-blended. Continuously stir the egg mixture with a wooden spoon until thickened, 7 to 8 minutes. The mixture should be thick enough to coat the back of the spoon.
Remove from heat, and stir in the half and half until smooth.
Strain the mixture through a fine sieve set over a clean bowl.
Cover and chill the mixture in the refrigerator, stirring occasionally, until cool, about 1 hour.
Pour the chilled mixture into an ice cream maker and freeze according to manufacturer's directions until it reaches "soft-serve" consistency.
Transfer ice cream to a one- or two-quart lidded plastic container; cover surface with plastic wrap and seal. For best results, ice cream should ripen in the freezer for at least 2 hours or overnight.
Green Tea Ice Cream
(Recipe Courtesy of
Epicurious
)
Want to reap all of the benefits of green tea but enjoy it in ice cream form? Follow this Green Tea ice cream recipe on National Ice Cream Day.
2 cups heavy cream
1 cup whole milk
1/4 teaspoon salt
6 large eggs
2/3 cup sugar
2 tablespoons matcha (powdered Japanese green tea)
an ice cream maker
Bring cream, milk, and salt to a boil in a 3- to 4-quart heavy saucepan and remove from heat.
Whisk together eggs, sugar, and matcha in a bowl (tea will not be completely dissolved), then add 1 cup hot cream mixture in a slow stream, whisking vigorously.
Whisk custard into remaining cream mixture in saucepan and cook over moderately low heat, stirring constantly with a wooden spoon, until thick enough to coat back of spoon and registers 170°F on an instant-read thermometer (do not let boil).
Immediately pour custard through a fine sieve into a metal bowl, then cool to room temperature, stirring occasionally.
Chill, covered, until cold, at least 1 hour.
Freeze in ice cream maker, then transfer to an airtight container and put in freezer to harden.
Kiwi Ice Cream
(Recipe Courtesy of
The Spruce
)
Kiwi may seem like an exotic ingredient, but kiwi ice cream is actually simple to make. Just follow this kiwi green ice cream recipe and you'll be eating this tropical ice cream on National Ice Cream Day!
6 ripe kiwifruit*
2 tablespoons sugar
2 large eggs
1 cup sugar
2 cups heavy (or whipping cream)
Peel the kiwifruit either with a vegetable peeler or knife and mash them in a bowl until pureed.
Stir 2 tablespoons sugar into the fruit, cover, and refrigerate 1 hour.
Whisk the eggs in a mixing bowl until light and fluffy, 1 to 2 minutes.
Whisk in 1 cup sugar, a little at a time, then continue whisking until completely blended, about 1 minute more.
Pour in the cream and whisk to blend.
After 1 hour cooling in the refrigerator, stir the kiwifruit into the egg, sugar, and cream mixture.
Transfer the mixture to an ice cream maker and freeze following the manufacturer's instructions.
If you need a little extra green in your wallet, don't forget about
AmeriCash Loans
. Just
apply online
or
in-store
today using our convenient, seamless, and secure application – and you could have your cash as soon as tomorrow. Have questions?
We have answers
. Call us at 888.907.4227 or email us at cs@americashloans.net.