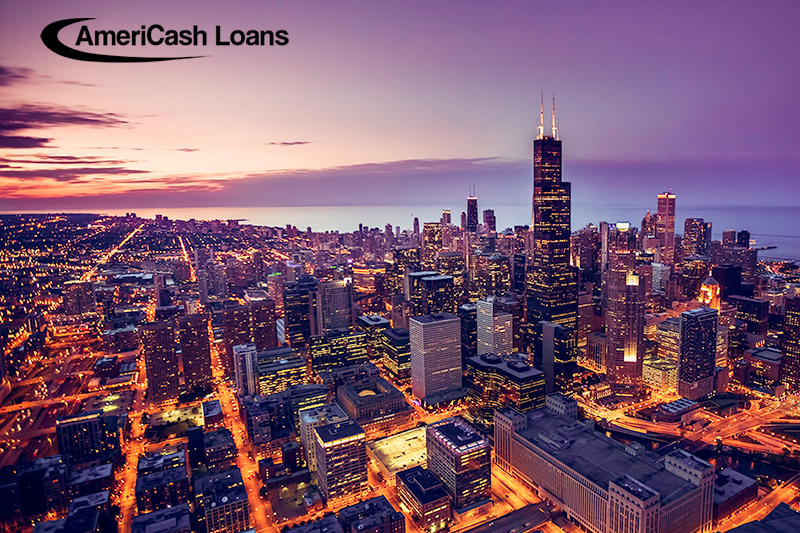 Job Fair at Glendale Heights on June 30th
"AmeriCash Loans"
Illinois
---
We will be holding a job fair at our
Glendale Heights location
on Saturday, June 30
th
from 9:00 am to 3:00 pm. There will be interviews on-site to hire for various positions including Customer Service Representatives, for multiple stores throughout our locations in Chicago and the suburbs. Be sure to
check out our careers page
for more openings!
Are you looking for a job that can turn into a career? Do you want to move to or already live in Illinois? Joining the AmeriCash Loans team at one of our nearly-40 Illinois store locations or Des-Plaines-based headquarters may be a great fit for you!
About the Customer Service Representative Position
When you work as a
Customer Service Representative
at one of the AmeriCash Loans locations in Illinois, you'll be the face of the company and the liaison between lender and customer. Your job will be to build strong relationships with new and returning loan customers and to meet sales goals to ensure that your store and your team are successful. If you're professional, reliable, and great at communicating both orally and in the written word, apply to become a Customer Service Representative at AmeriCash Loans in Illinois.
Convenient Locations
Illinois is our home. It's where we started and grew our roots over 20 years ago, and that's why we have so many locations here in Illinois. We're passionate about serving the diverse towns, villages, cities, and communities across the Land of Lincoln. When you join one of our Illinois AmeriCash Loans store teams, you'll work with a dedicated team at a location convenient to you. Whether you live in central Illinois, Chicago, the Chicago suburbs, Springfield, or Peoria, you can work at an Illinois AmeriCash Loans location near your home, so you can save time on your commute and maintain your work-life balance.
Competitive Pay and Benefits
When you work for AmeriCash Loans in Illinois, you'll earn competitive pay in the financial services market. We know you work hard, and we want to reward that with an hourly rate or salary that supports your lifestyle. Full-time employees are also eligible for health, dental, disability, and life insurance, as well as company-matching 401K. Our employees are the most valuable part of our company, and we want to make sure they're taken care of.
Our Team Values You
When you join us for a career at AmeriCash Loans in Illinois, you'll become a part of a growing, supportive, and fun team of talented individuals. Each team member is an integral part of the company, and each employee is essential in helping us meet our daily, weekly, monthly, and yearly goals. As a part of the AmeriCash Loans family, you'll feel supported and valued by your team members, who are there to lend a guiding hand whenever you need it. Our people are one of the greatest reasons to work for AmeriCash Loans in Illinois.
Room to Grow and Advance
If you're someone that loves learning and striving to reach their full potential, you'll find a rewarding environment waiting for you when you become a team member at AmeriCash Loans in Illinois. Every day offers new opportunities to learn about financial services and grow in your position at our company. Advancement within the organization is common here at AmeriCash Loans, and we promote from within based on hard work and achievement. If you're a self-starter who wants to go far in the financial services world, apply to work at AmeriCash Loans in Illinois today.
Work-Life Balance
The work that we do at AmeriCash Loans is important, but we realize that your life is too. Our schedule, time off policy, and paid holidays allow you to enjoy your family, friends, and hobbies outside of work. We know that you do your best when you're happy, and a good work-life balance is key to that. Apply today to work for AmeriCash Loans in Illinois.
Working at AmeriCash Loans Corporate Offices
AmeriCash Loans' headquarters in Des Plaines, Illinois, houses the multitude of teams that manage the company and care for our customer relationships. If you live in the greater Chicago area and are interested in working at our customer care center, online loans sector, or as part of our in-house collections team, check out our current openings to see if there's a position that's a good fit. If you're ambitious, love to learn, and come to work with a can-do attitude every day, we look forward to receiving your application!
Don't miss our job fair on Saturday, June 30
th
at 205 Army Trail Road in
Glendale Heights, IL
! We will be hosting on-site interviews from 9:00 am to 3:00 pm. For more information on available positions,
visit our careers page
.