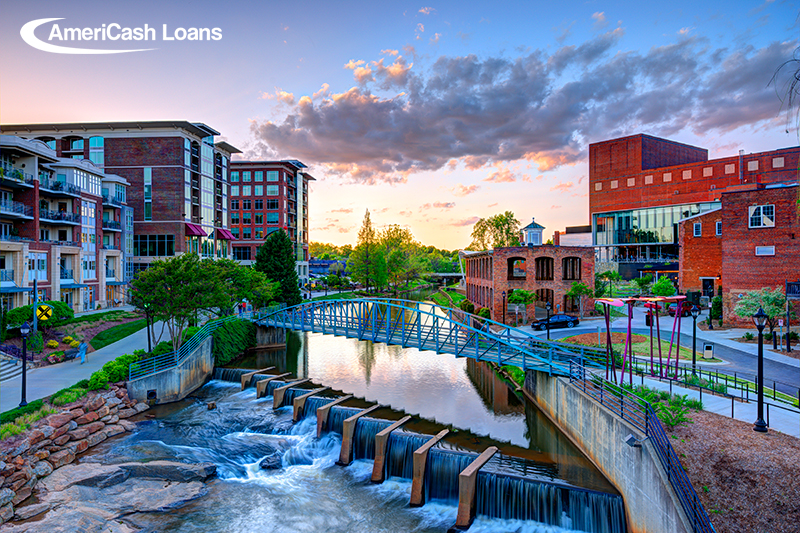 Neighborhood Spotlight: Greenville, South Carolina
"AmeriCash Loans"
"Apply Now"
"South Carolina"
---
Greenville is a fast-growing city in the upstate region of South Carolina, located about halfway between Atlanta, Georgia and Charlotte, North Carolina. Greenville has repeatedly earned the honor of being named one of the best small cities in the U.S., a title it proudly displays amongst its numerous other awards and accolades. The city has a rollercoaster past, dating back to the years before the American Revolution, but was officially declared a town in 1869. Greenville's beautiful scenery and abundance of activities make it a great place for a budget vacation or weekend getaway.
Falls Park on the Reedy
Falls Park on the Reedy is located in the popular West End neighborhood of Greenville, South Carolina. This park is a great place to spend an almost-free day with your family, exploring it's nature trails, photographing its waterfall, having a picnic along the Reedy River, or taking advantage of any of the hundreds of nature and recreational activities offered by the park. Most of the activities are free, and if you head to the grocery store in advance, you'll save money on your picnic lunch. Plus, you'll get to spend the day with family, getting to know one of the most beloved spots in Greenville. If you decide to leave Falls Park early, you'll still find yourself in the middle of the action in downtown Greenville.
Roper Mountain Science Center
If you're traveling to Greenville, South Carolina with your kids, the Roper Mountain Science Center is the perfect destination for you. The center has something for everyone, and encourages kids to learn about and pursue scientific knowledge. Roper Mountain Science Center is home to a planetarium, an arboretum, a living history farm, a butterfly world, and an observatory, so whatever you and your kids are interested in, there's a spot for you. The museum also offers lots of hands-on classes so that your little ones can really get involved in science. Before you leave, make sure you head to the nature trail on the mountain side of the center to take in a butterfly garden and pond filled with interesting insects and aquatic life.
TD Saturday Market
If you're in Greenville, South Carolina on a Saturday between May and October, don't miss the TD Saturday Market. Every week, Main Street comes alive with local vendors of all kinds, selling handmade jewelry, local goods like honey, and all of the fresh produce you could wish for. This is a great place to find a Greenville souvenir or pick up supplies for a picnic. The market also boasts live music and cooking demonstrations. The TD Saturday Market is free to visit, so having fun and getting to know the locals won't cost you a thing.
Swamp Rabbit Trail
Want to get some exercise while you vacation? See Greenville, South Carolina by foot when you walk the Swamp Rabbit Trail. The trail is 28.6 miles long, so you won't be able to do the entire route in one day (unless you ride a bicycle), but you can easily walk a part or two between different areas in Greenville. The trail starts at Greenville Technical College, continues through the city, hits Falls Park, winds through the Furman University campus, and then ends north of an area called Traveler's Rest. Walking the trail not only allows you to see Greenville, it also lets you take in the beautiful flora and fauna that South Carolina is known for.
Need a little extra cash for your trip to Greenville, South Carolina? Apply at our
Greenville AmeriCash Loans location
and have your money as soon as the next business day. Want your cash before you go? Apply at your
nearest location
or
online
and avoid financial stress while you travel.