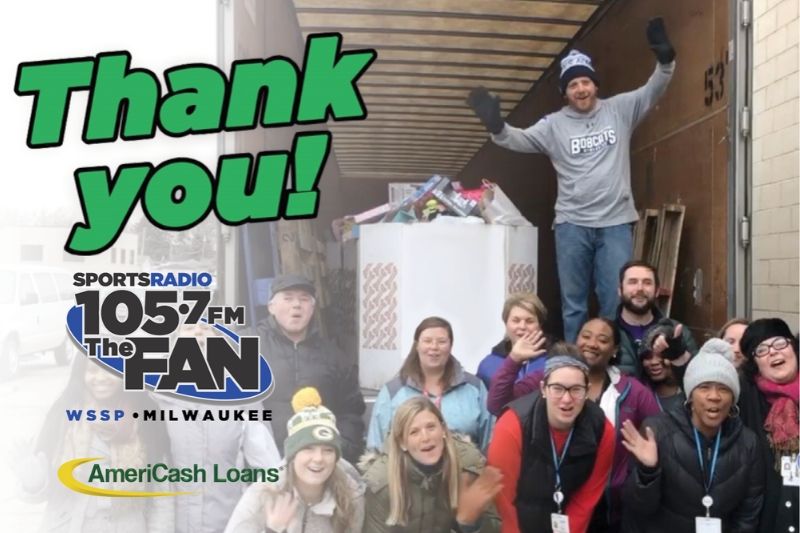 SportsRadio 105.7 FM The Fan's 13th Annual Toy Drive with AmeriCash Loans
"AmeriCash Loans"
"Giving Back To The Community"
---
AmeriCash Loans has partnered with SportsRadio 105.7FM The FAN to sponsor the 13
th
annual Toy Drive so we can help brighten the days of many children staying at the Children's Wisconsin.
When:
Monday, December 2nd through Friday, December 6th
6a - 6p
Where:
501 W. Rawson Ave
Oak Creek, WI 53154
Donations:
105.7FM The FAN will be collecting new toys or cash and checks for the children at Children's Wisconsin. You may drop off your donation in-person or you can call in to make a donation
online
.
105.7FM The FAN will be broadcasting all of their shows live at Blain's Farm and Fleet so you can drop off donations and listen to some of your favorite on-air personalities like Chuck and Winkler, Bill Michaels and all of the guys from The Big Show from 6a to 6p each day. You may even get to see some special on-air guests while you're there!
Remember that you don't have to arrive to the event with a toy, since it is located at Blain's Farm and Fleet you can choose from their large variety of toys to donate to the Children's Wisconsin. Cash and checks will be accepted as well.
AmeriCash Loans is proud to sponsor an event like this - Did you know 105.7FM The FAN raised more than $160,000 last year in cash and toys? That was enough toys to help kids throughout the whole year and not just the Holiday season. Help us do it again with 105.7FM The FAN!
The impact of this Toy Drive is tremendous and we ask you to take the time to stop by and make a donation. Every toy and every donation no matter how large or small will make a difference for these children. If you can't make it, you can contribute to this cause by clicking the
link here
.
AmeriCash Loans wants to sincerely thank you for your participation and we hope to see you there!
For extra cash to finish your holiday shopping needs you can
apply online
for a loan up to $2,500 today and get your cash as soon as tomorrow!