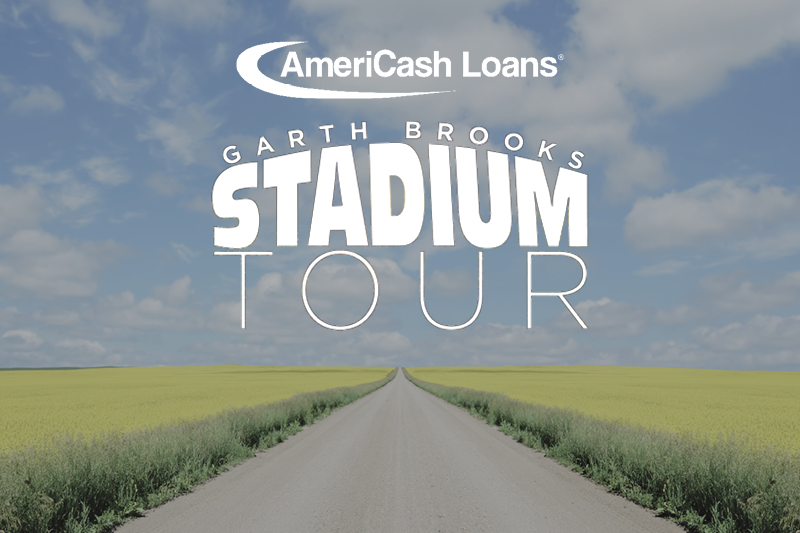 AmeriCash Loans and B-104 celebrate the grand opening of our New Bloomington Location With Garth Brooks tickets!
"AmeriCash Loans"
"Giving Back To The Community"
---
AmeriCash Loans is opening a new branch in the wonderful town of Bloomington, IL! We're so excited for this new journey and we want the community to be as well! Our goal has always been to not only expand and grow into more communities but to elevate them as well. Bloomington is an ideal haven for both families and business, and we at AmeriCash want to try our hardest to help the hardworking citizens here.

A mere two hours away from Chicago, Bloomington might not have the glitz and glam of the big city, but spend just a little bit of time here and you'll understand why the locals take such pride in living here. With 38 public parks, 3 golf courses, 2 aquatic centers, and an ice rink, Bloomington is the idyllic place for anyone looking for the perfect tranquil urban town with lots to offer. With a great school system and a thriving downtown business center, Bloomington has a not so little something for everyone. Whether you're looking to open a business or settle down with your family, Bloomington can be the perfect fit for you and your loved ones.

We're so excited to be joining the community, and we're humbled to be joining the home-grown business of Bloomington like State Farm and Beer Nuts. Our branch will be even better and more convenient than ever before! Located at 1605 Morrissey Dr, STE 103, Bloomington, IL 61704, you won't be able to miss it, even if you wanted too! And trust us, you won't.

Our AmeriCash family is so excited we're going to be having a special grand opening sweepstakes! That's right, we're going to be partnering with our good friends over at the local radio station B-104 to giveaway tickets for the SOLD OUT Garth Brooks concert at The dome at America's Center in St. Louis!

We'll be hosting the sweepstakes at our grand opening where B-104 will be hosting a live 2-hour broadcast between 11a.m.-1p.m. at our location alongside our amazing support staff who will be happy to help you with anything you need. For more details and directions, visit us on facebook and check out how easy it's going to be for you to enter your name to win the chance of a lifetime and see everybody's favorite country star, Garth Brooks, perform like you've never seen him before!

Come for the tickets, stay for the company. And hey, if you don't win, there's no need to cry. Our staff will be there to comfort you and to show you that tickets to your favorite country singer are not out of reach just yet. Whether you're joining us for the first time or a returning fan, applying for a loan at AmeriCash has never been easier and we can't wait to help you and your family have the musical experience you've always dreamed of! See you March 7th!