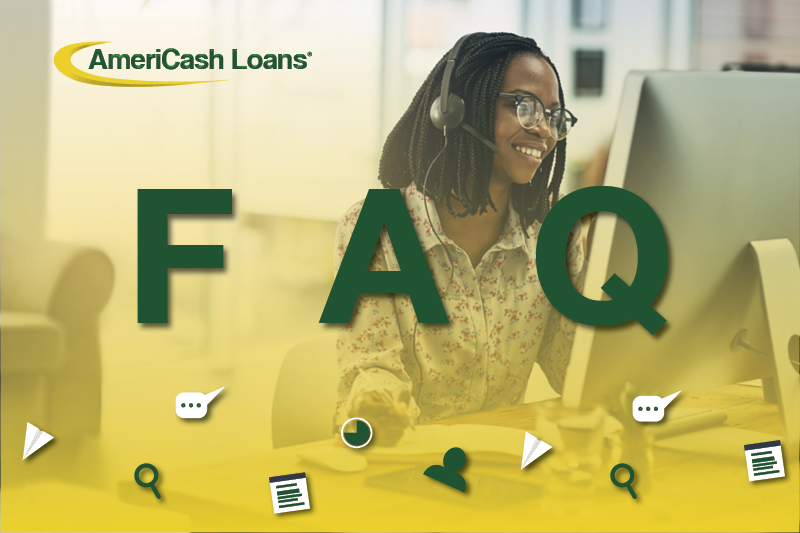 Frequently Asked Questions from Our Customers
---
At AmeriCash Loans, we pride ourselves on having the best customer service possible. We cater to those looking to improve their finances using direct lender installment loans for bad credit. Beyond our easy approval process and no credit check, we work to address any concerns you may have. We want to make the process simple and attainable. Here are some common questions our customers ask — and their answers.
Q: How much money can I receive from AmeriCash Loans?
The amount you're approved for with our installment loans with no credit check is based on a number of factors. Some of these are collected from the information you provide in your original AmeriCash Loans application. There are also state-mandated loan amount limits. Please visit your state's page to view loan rates and terms.
Q: Can I apply for a loan if I have less-than-perfect credit?
Yes, less-than-perfect credit doesn't prevent you from qualifying for a loan from AmeriCash Loans. Even if you've been turned down by other lenders, we may be able to assist you in obtaining a convenient credit option that fits your needs.
Q: What do I need to have ready when I apply for a loan from AmeriCash Loans?
Please have the following ready when applying for a loan both in store and online:
Verified bank account and voided check (if applicable)

Valid driver's license/state ID

Current proof of income (e.g., pay stub or benefits letters)

Proof of residency (two recent pieces of mail)
Proof of income may include a government benefits award letter with a recent bank statement displaying proof of direct deposits within the last 30 days.
Q: How will I know when I've been approved for a loan?
AmeriCash Loans online applicants receive email notifications when approved. In-store applicants can receive approval immediately in most cases.
Q: What are my repayment options?
You can take advantage of the following repayment options:
Installment payments: You may pay back your loan principal plus accrued fees through a number of scheduled payments made over the loan term.

Full payment: You may pay back your loan in full at any time without any prepayment charges.

Early or partial payment: You may make an early or partial principal payment on your loan at any time with no prepayment penalties.
Q: What if I forgot my AmeriCash password?
To reset your AmeriCash Loans password, follow these steps:
Click the "NEED HELP?" link under the customer login section in the top right corner of the website.

Select "I FORGOT MY PASSWORD" and fill in your username. Then, select "NEXT."

Select your preferred communication method and select "NEXT." You'll be sent a unique PIN that allows you to reset your AmeriCash Loans password.
Do you have more questions about the application or repayment process of an installment loan with AmeriCash Loans? Log on to our
FAQ page
to see more common questions, or call us at (888) 907-4227 today.