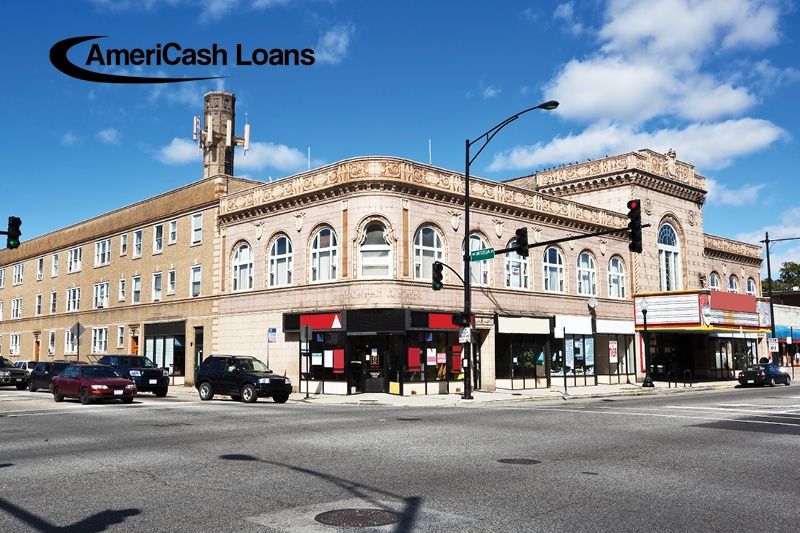 Neighborhood Spotlight: Six Corners, IL
"AmeriCash Loans"
"Apply Now"
Illinois
"Installment Loans"
---
Chicago has a famous 6 way intersection called Six Corners. The intersection is where Cicero Avenue, Irving Park Road and Milwaukee Avenue meet. Also located in the Portage Park Neighborhood on the northwest side. The intersection was once famous for its art-deco style Sears, Portage Theater and as a retail destination. Six Corners has pending development, hopefully some new shopping and apartment buildings will be brought to the area soon. However, our AmeriCash Loans location in Six Corners is still there and ready for business as we continue to serve the community by providing quality installment loans.
Six Corners Updates
The Portage Theater is a movie theater that was established in the 1920s. The theater was renovated in the 1940s to match the rest of Six Corners in art-deco style. Now the theater hosts occasional concerts and indie movie screenings. Another hallmark of the area is the Sears Six Corners. Built in 1938, the Sears Roebuck and Co. may have been considered to be the most iconic part of Six Corners. The Sears Six Corners had an art-deco style store front that served as the center of the once booming shopping district. This Sears location was the last to close in the city. However, the closing of the Sears is not the end of Six Corners. It is seen as a very attractive opportunity for transformation into an apartment complex or possibly for commercial use. More plans and ideas are being worked on to revitalize the area, incentives to businesses and beatification projects.
AmeriCash Loans at Six Corners
Our AmeriCash Loans store is located in the Six Corners area and is located at 4815 W Irving Park Rd Chicago, IL 60641. You can also find it at this
Google Maps page
. We are proud to be a part of the historic shopping district and welcome businesses and Chicagoans to the area. Along with a high customer satisfaction rating, we also have great reviews on our store. Rosalind Adams gave the Six Corners location a five star review and also commented,
"The girls here are beyond "Awesome"! Always polite & courteous. I wish I could give them more than 5 stars :)".
AmeriCash Loans prides itself on customer satisfaction and providing assistance to the community with payday loan alternatives. Please visit the
Google review page
and leave us a comment and rating on your positive experience with us.
How to Get an Installment Loan with AmeriCash Loans
As Chicagoans, we are all aware that things can happen in an instant. However, you don't have to worry about being financially covered when a need arises because AmeriCash Loans is here to help you cover your expenses with payday loan alternatives. You can easily apply for an installment loan by going into one of our stores and having a friendly customer service rep help you. You can also visit the AmeriCash Loans website to apply for an installment loan at
AmeriCashLoans.Net/Apply
. Call us at 888.907.4227 to speak with a friendly service rep and to have all your questions answered. You can also visit us at
AmeriCashLoans.Net/Community
for more blogs on lifestyle, news and financial tips.