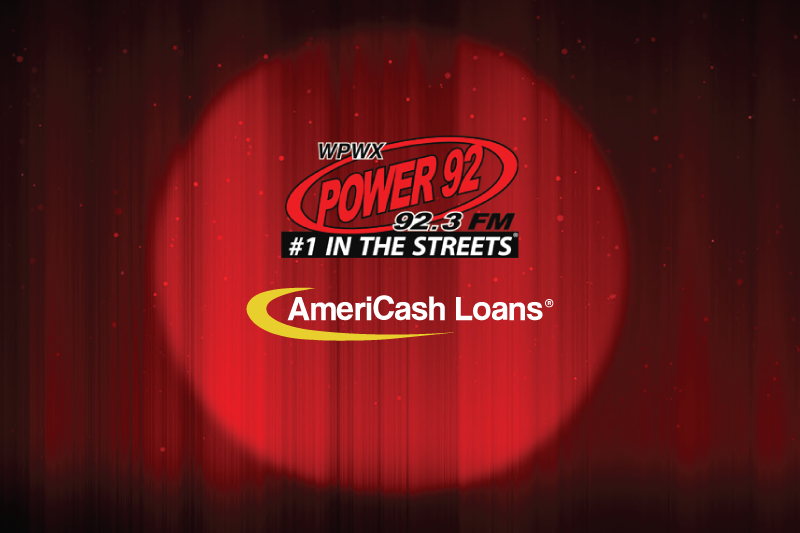 Win Tickets to Comedy Laugh Fest Plus $100 With Power 92 and AmeriCash Loans
"AmeriCash Loans"
"Giving Back To The Community"
---
Do you like to win free things? Then keep reading… AmeriCash Loans has partnered with Power 92 for your chance to win a pair of tickets to Comedy Laugh Fest AND $100. Two lucky winners will get to see comedians like Cedric The Entertainer, Eddie Griffin, D.L. Hughley and many more perform at Comedy Laugh Fest at the end of December!
How to win?
Just come by our AmeriCash Loans location at the time and date below and you'll be entered to win a pair of tickets plus $100, it's that easy!
You don't want to miss this easy opportunity to win two comedy show tickets and cash! When you visit the AmeriCash Loans Lansing location, you'll be able to meet on air talent from Power 92 and listen to them broadcast live. Come hang out with us and Power 92 for a day filled with music, fun and free stuff!
Our AmeriCash Loans Lansing location sits conveniently on the Illinois side of the Illinois/Indiana border and we are proud to serve communities from both states so, come on in! While you're here for the Power 92 event don't forget to ask our AmeriCash Loans team about our quick loan application process for all of your extra cash needs!
AmeriCash Loans cares about our community, and we offer year-round events throughout Illinois, Wisconsin, Missouri, and South Carolina. Check out our
community blog
to learn more about upcoming events near you. Our blog also contains useful information on installment loans, life hacks, and other tips that'll you'll find useful. In addition, you can
apply online
now and get your cash as soon as tomorrow!
If you can't make it to the event, don't worry! You can win big in other ways by participating in our 5 Days of Holiday Cash Giveaway. We will be giving out $500 to 5 lucky winners to make this holiday season more special.
Enter here
by December 15th for your chance to win!