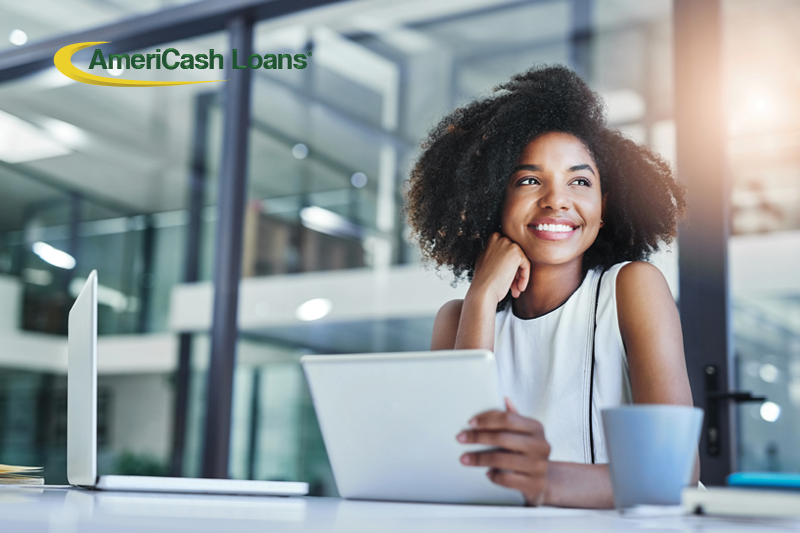 Working at AmeriCash Loans
---
From customer service representatives in various locations to management staff at company headquarters, we are passionate about what we do. Working at AmeriCash Loans is your opportunity to grow your career in the finance industry or generate the part-time income you're looking for while going to school. We'd like you to join our growing family, so here are some compelling reasons to check out our list of current openings.
Good Pay, Great Bonuses
We offer competitive salaries to take the stress out of your finances. Our store locations throughout the Midwest offer pay commensurate with competitive rates in the area. We also give you opportunities to earn beyond your salary with an effective bonus structure. Instead of being based on competition, bonuses are based on your performance and don't have a ceiling, so the more effort you put in, the more you benefit. We love rewarding effort.
We Promote From Within
Our strategy at AmeriCash Loans is to promote from within. This translates to greater opportunities for you to advance your career. Some of our most common entry-level jobs include customer service representatives in storefronts and customer support agents in the call center. These positions can be stepping-stones to store manager, district coordinator, regional manager, and executive spots at our corporate headquarters. If you have the desire to advance, we want to make it happen.
Family Is Key
We understand the reason you work is to provide a higher quality of life for you and your family. That's why we offer a generous benefits package to help offset your living expenses and keep your worries to a minimum. AmeriCash employee benefits include health, dental, life and disability insurance, and paid vacations and holidays. Team members also have the opportunity to participate in a 401(k) plan to give you greater peace of mind for the future. And to make sure you have more time with family, we are always closed on Sundays, and close early on Saturdays.
An extra bonus is the fact that our locations are spread throughout the Midwestern United States, a great place to raise a family. We'll help you put down roots in Illinois, Missouri, Oklahoma, South Carolina, or Wisconsin.
Make a Difference — Be Part of Giving Back
AmeriCash Loans believes in paying it forward. By being part of the AmeriCash Loans' family, you're becoming part of the movement to make a difference in your community. We actively encourage volunteerism among our employees and our customers. Recent efforts included a spring cleaning of our branded merchandise, which we offered to our team members for between a few pennies and a few dollars. And all the proceeds — plus the company's match dollar for dollar — went to a local food pantry. Working at AmeriCash Loans benefits you, your family, and your community.
Whether you're looking for a job now or already have one and are trying to make ends meet, AmeriCash Loans is here to help. We provide fast, easy, and convenient loans of up to $4,000. Apply today!