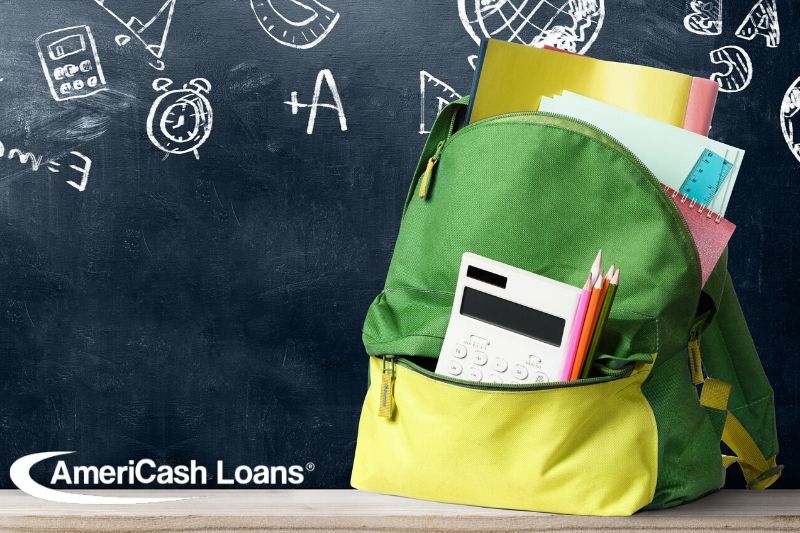 Back to School Shopping 101
"Apply Now"
"Installment Loans"
---
At the start of a new school year, schools send out supply lists, and retailers prepare for the surge in purchases with back to school sales. Despite lower prices, school supplies purchases can add up. At AmeriCash Loans, we've put together some tips to help you take advantage of back to school savings.
Lesson 1: Inventory What You Have
There's a good chance you already have some of the supplies on your list. Many people purchase pens, art supplies, and cheap notebooks in large quantities but don't use them all during the school year. Check closets and drawers for leftover supplies. Look for items that are gently used like pencils, erasers, or notebooks with only a few used pages. While they aren't new, they're not ready for the trash either. Your greatest back to school savings will come from using what you already have.
Lesson 2: Take Advantage of Back to School Sales
Take advantage of the back to school savings in late summer and early fall. Backpacks, cheap notebooks, art supplies, and electronics are available during these months at rock-bottom prices. You'll save more money overall buying everything you need early in the year when they are available for a fraction of the regular price, rather than waiting until later in the year.
Lesson 3: Purchase Most-Used Items in Bulk
Buying in bulk is a popular way to save money, especially for school supplies. While the price of a box of 100 pencils is higher than a box of 12 pencils, you'll find the price per pencil is lower. Reserve bulk purchases for most-used items like notebook paper, pencils, and erasers. You probably won't need 20 highlighters or 50 bottles of glue for a single student. Use your calculator to figure out the best prices and determine which items offer the most savings in bulk.
If you have multiple children, buying in bulk is the best option. Combine school supply lists and purchase larger quantities to split cheap notebooks and other supplies among the students. Alternatively, you can shop with other families to split the costs and share savings.
Lesson 4: Look for Used Electronics
Pens, pencils, art supplies, and notebook paper are fairly inexpensive compared to other items on a school supplies list including graphing calculators and laptops. If you're looking for new items, back to school sales are your best bet, and retailers might provide additional savings with student discounts. However, don't forget used items. Many people don't have much need for a graphing calculator once they finish the class and are willing to sell them at a deep discount. The same is true for laptops, tablets, and other electronics. Check yard sale sites and social media for used items.
Need help purchasing the big-ticket items on your back to school list? Turn to AmeriCash Loans. Use the
quick online application
to apply for a loan and get the cash you need to take advantage of back to school sales. If you have any questions during the application process feel free to call the customer support team at 888.907.4227.