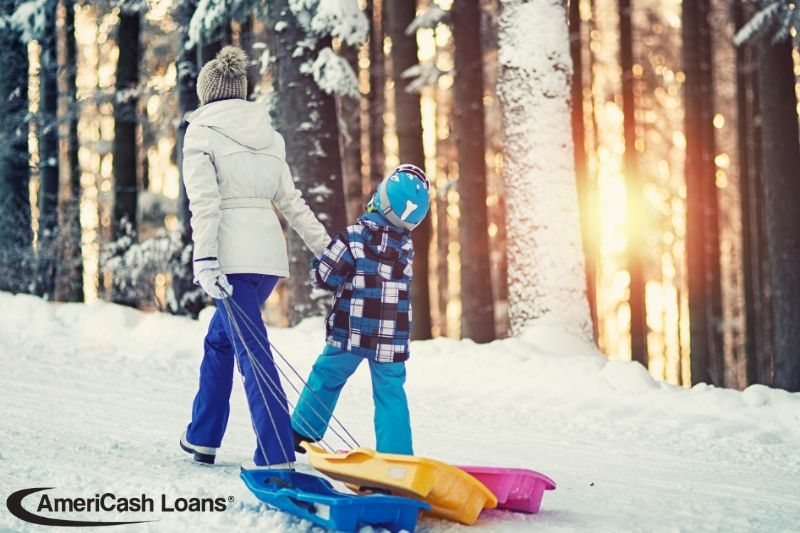 Best Places to Go Sledding in Wisconsin
---
When it comes to winter outdoor activities in Wisconsin, sledding and snow tubing are definitely at the top of the list. They're fun for the whole family, and locals have been enjoying them for centuries. Are you ready for a wintertime excursion? Check out this list of some of the best places to go sledding in Wisconsin.
Ariens Hill in Green Bay
Located in Green Bay's Titletown District, Ariens Hill is 46 feet and the perfect place for sledding and snow tubing. It's even got several tubing lanes. Best of all, there are several restaurants and an ice-skating rink nearby, so you can make a day of it. Keep in mind that you'll need to use the provided tubes — you don't need to bring your own.
Sylvan Hill Park in Wausau
Even if you don't have kids, Sylvan Hill Park is home to some of the best tubing and sledding in Wisconsin that you'll find. The park's tubing hill has its own snowmaker, ropes for towing your tubes back up the hill, and a snack bar where you can fuel up for your next round near the chalet-style fireplace.
Mountain Top at Grand Geneva Resort & Spa in Lake Geneva
The Mountain Top at Grand Geneva Resort and Spa in Lake Geneva is, without a doubt, home to some of the best sledding in Wisconsin. There are other winter outdoor activities here too, like skiing, ice skating, and snowboarding, and when you get too cold, there's a cozy fire pit where you can warm up.
Winter Park Recreation Area in Kewaunee
If you're looking for snowboarding, skiing, snow tubing, sledding, and other fun activities in Northeast Wisconsin, consider the Winter Park Recreation Area in Kewaunee. It's open every weekend and even has a snack bar for when you work up an appetite from all the activity.
Oconto Falls Tubing Hill in Oconto Falls
As the name suggests, the Oconto Falls Tubing Hill is more about snow tubing than sledding, so leave your best sleds at home and opt for your tube instead. The hill has a 900-foot run, and it's open every weekend as long as temperatures remain above zero.
Camp MacLean in Burlington
If you dream of old-fashioned fun like you had when you were a kid, head to Camp MacLean in Burlington. Choose one of their best sleds and toboggans and race down the hill until your heart's content. There's even a special toboggan slide — one of only just a few in the area. You can then warm up with hot chocolate when you get too cold.
Whether you want to buy the best sled available or take a little weekend trip to visit some of these amazing sledding and tubing sites, consider an installment loan from AmeriCash Loans. It's quick and easy to apply on the
AmeriCash Loans
website and you can receive your funds as soon as tomorrow. Contact AmeriCash Loans today at 888-907-4227 to learn more!