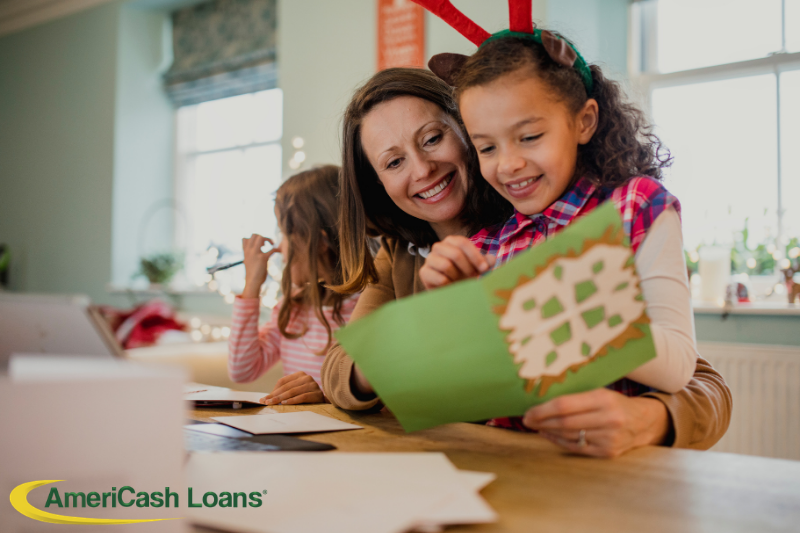 10 Budget-Friendly Activities for the Whole Family
---
There's something about the holiday season that makes us all want to do as many family activities as we can. But all that holiday fun can be expensive. That's why, at AmeriCash Loans, we put together a list of top 10 activities that everyone of all ages can enjoy on a budget.
Admire the Lights
Driving around and looking at lights is a staple of traditional holiday fun. It's also one of those family activities that's suitable for all ages. You just need a little extra gas in the tank to make it happen. Go the extra mile by bringing snacks and hot cocoa along.
Make a Gingerbread House
If you have kids, a gingerbread house is a holiday must. Run to the grocery store and grab some cheap frosting, graham crackers, and colorful candies. Have your kids see who can make the most festive gingerbread house.
Watch Christmas Movies
Whether you have access to subscription streaming services or basic TV channels, you can catch Christmas movies around the holiday season. Some of our favorite family-friendly Christmas movies include:
●
A Charlie Brown Christmas
●
A Christmas Story
●
Elf
●
Home Alone
●
Polar Express
●
Santa Paws
Volunteer
It doesn't cost a dime to give your time, and volunteering can be one of the most meaningful family activities. Serve meals at your local shelter, rake leaves for an elderly neighbor, or help deliver toys to children in need.
Bake Cookies
If you prefer indoor activities, bake cookies with your family. You can make them from scratch with a few cheap ingredients or buy a roll of dough for a few dollars.
Make Christmas Cards
Making Christmas cards is another great idea if you're looking for indoor activities. All you need is paper and markers. If you want to go the extra mile, look for glitter and stickers at your local dollar store.
Have a Christmas Dance Party
If you're in search of indoor activities that will also help you — and your kids — get some exercise with a Christmas dance party. There's no shortage of free holiday music online. Dance the night away!
Visit the Library
Visiting your local library doesn't cost a dime. Take your kids, and check out the holiday book selection for some cozy bedtime stories.
Make Popcorn Garland
Make a fun and delicious treat for your Christmas tree with a popcorn garland. All you need is a needle, some string, and, of course, popcorn. Your kids will love it.
Go Caroling
Involve your loved ones in your holiday fun by taking your family caroling. Show up at your neighbors' doors. Call ahead to make sure they're home, and sing your favorite holiday tunes.
Even when you're on a budget, the holidays can be a financial burden. We understand that at
AmeriCash Loans
. Consider taking advantage of our
installment loans
this holiday season.
Applying
only takes a few minutes and you can get funded as quickly as the same day when you complete the application before 11:30a CST. Restrictions may apply. You can also earn extra cash by referring your friends to AmeriCash Loans, learn more about our
referral program
here.