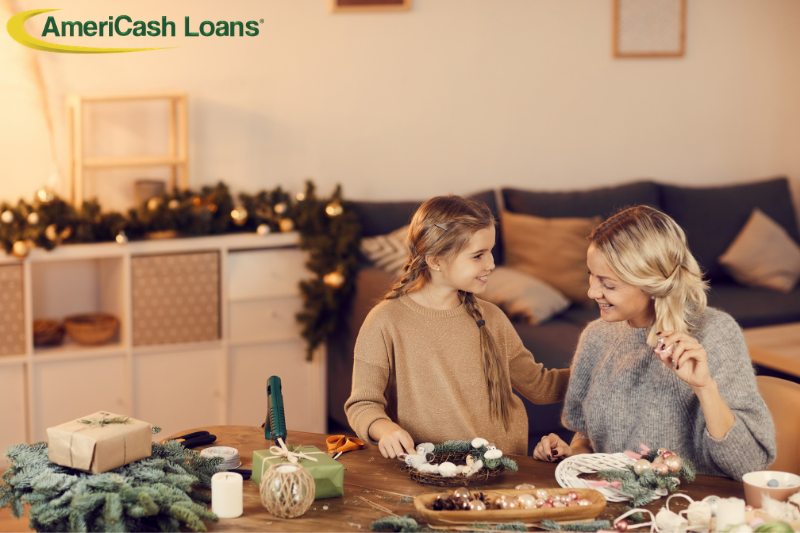 DIY Gifts Everyone Will Love
---
With the holidays around the corner, it's time to think about gift giving. If you've got extra time or you're looking to save money, why not consider homemade gifts? DIY holiday gifts are one-of-a-kind treasures sure to bring a smile to everyone on your list. Try these budget-friendly and easy gift ideas from AmeriCash Loans.
Calming Bath Brew
At the end of a stressful day, there's nothing more relaxing than a hot bath, so give your special someone the perfect DIY holiday gift: calming bath brew. Start with small bags made of organza or muslin. Add Epsom salt mixed with drops of essential oils, and top with dried flowers. Tie the top with a pretty bow, and attach instructions to place the bag directly in bath water. When choosing dried flowers consider lavender, roses, jasmine, cornflowers, or calendula. Soothing essential oils to try include chamomile, vanilla, sandalwood, or bergamot.
Salt Dough Ornaments
For dinner parties, a holiday ornament makes the perfect host gift. Skip the stress of gift giving and holiday shopping by making your own ornaments from salt dough. Combine flour, salt and warm water to create the dough and roll it between sheets of parchment paper. Use cookie cutters to create mittens, stars, candy canes, and snowflakes. Fashion holes with a plastic straw for hanging your ornaments, and bake at 300 degrees Fahrenheit for one hour. When cooled, keep your ornaments plain or decorate them with paint and glitter. Affix colorful yarn or ribbons for the perfect finishing touch.
Peppermint Candles
When it comes to easy gift ideas for the holidays, it doesn't get any simpler than peppermint candles. Gather things from around the house like a Mason jar, a large Pyrex measuring cup and a glue gun. While you're out holiday shopping, pick up some soy wax flakes, peppermint essential oil and a candle wick.
To make your candle, glue the metal part of the wick to the inside-bottom of your Mason jar. Keep it in place by rolling the top of the wick around a pencil. Pour the wax flakes into your measuring cup, and melt them in the microwave following the package instructions. Stir in about 15 drops of peppermint essential oil and pour the wax into the Mason jar, holding the wick in place. Allow the candle to set for several hours, and snip the wick to the appropriate length. Decorate the outside of the jar with faux holly, berries and ribbon.
BBQ Basket
Looking for easy gift ideas for your favorite griller? Fill a basket with zesty DIY spice rubs and a few grilling tools like a basting brush, skewers, and a meat thermometer. If you're handy with a sewing machine, add a colorful apron, too. Ingredient ideas for unique spice blends include ground coffee, brown sugar, crushed garlic, dried oregano, pepper flakes, and dried orange peel.
While these DIY holiday gifts can help save money, you may still need extra funds to complete your holiday shopping list this year. An
installment loan
from
AmeriCash Loans
can help with your gift giving efforts. Visit our
FAQ page
at AmeriCash Loans or contact our
customer support
team today if you have any questions!