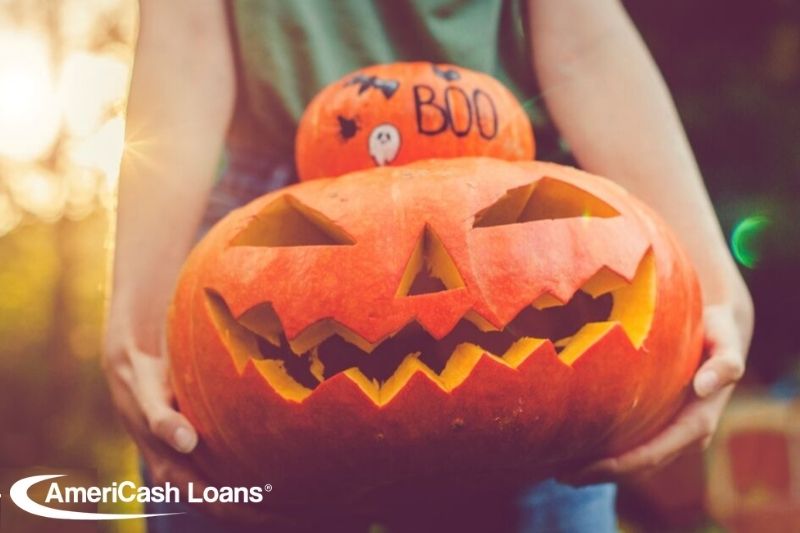 D.I.Y. Haunted House Edition
---
You don't have to leave the house to get into the spooky spirit of Halloween. Thankfully, it's easy to enjoy some DIY Halloween fun by creating your own haunted house at home this fall, and you can even do it on a budget. Try these scarily good ideas from AmeriCash Loans.
Make Easy Costumes
Whether it's you and some friends or your kids, everyone who's part of your haunted house should be in costume to get guests into the Halloween spirit. You don't need to do anything fancy. Look for easy costumes you can make on a budget on DIY Halloween websites. Or cut some holes in an old sheet and turn everyone into ghosts — talk about easy costumes! Have your ghosts jump out and scare visitors when they turn corners.
Shop for Cheap Halloween Decorations
Every inch of your haunted house should have some spooky seasonal appeal. Shop for cheap Halloween decorations to fill in where you need them. Look for glow-in-the dark stickers and creatures like bats and spiders. You can even hide spooky items around the house and give each visitor a list for a scavenger hunt. Check your local dollar store or supermarket for cheap Halloween decorations you can use.
Get a Fog Machine
Add a fog machine to a spooky part of your haunted house to create an uneasy atmosphere. They're fairly inexpensive at your favorite big box store, and they're something you can use again year after year.
Serve Spooky Snacks
Serve up spooky snacks, like sandwich cookies made into tombstones with almond bark, gelatin cups filled with creepy creatures like gummy worms, or even basic Halloween cookies and cupcakes.
Turn on Sound Effects
Sound effects are a must for a haunted house. The good news is that they're easy to come by, even if you're on a budget. Look to websites like YouTube for sounds and songs that'll make your skin crawl.
Place Jars of Creepy Items Around
If you have some old jars around the house, fill them with creepy DIY Halloween items. Peel grapes to look like eyeballs. Take a doll apart, and place it in a jar of liquid to look like preserved body parts. You can also use plastic spiders, pasta to look like brains, or anything else you can think of that might look a little sinister.
Focus on Lighting
A good haunted house isn't all bright. Turn off the main lights and use candles and jack-o'-lanterns to light up the space instead. Just make sure your guests can see well enough to walk around without tripping.
Need a little financial boost for your Halloween plans? Consider installment loans from
AmeriCash Loans
. It's fast, easy and secure to apply, and you'll receive your funds quickly. Visit the
AmeriCash Loans
website today to learn more.