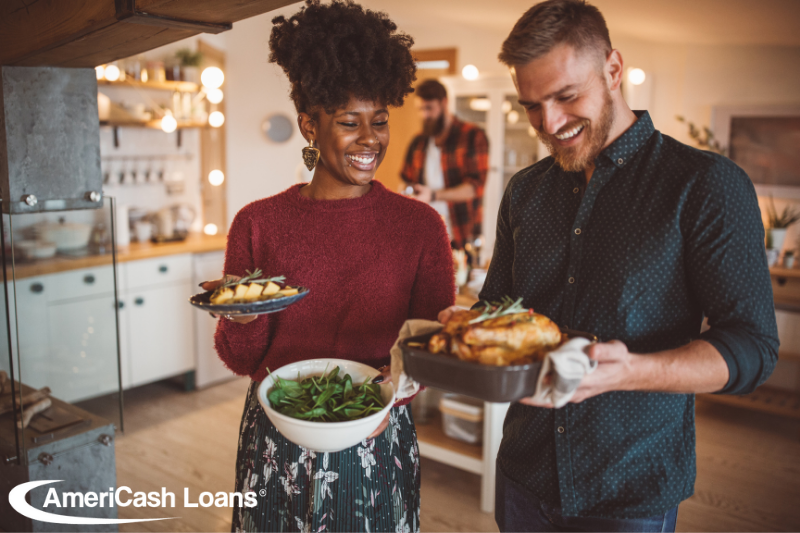 Easy and Affordable Holiday Recipes
---
'Tis the season for spending lots of money and cooking delicious food. When your holiday recipes are made with easy ingredients that don't cost much, you can stretch your budget while having time with those you love.Here at AmeriCash Loans, we have put together a few quick recipes to get your taste buds going.
Slow Cooker Lasagna
Lasagna is a favorite among holiday recipes, made with easy ingredients. Try making lasagna easier in your slow cooker, instead of the oven. You don't even need to boil the noodles. Throw your ingredients into the cooker, and get it going for three hours on high or five to six hours on low. This will give you plenty of time to wrap gifts, play games, and enjoy time with friends and family.
Egg Casserole
Do you crave a holiday breakfast that doesn't leave you slaving over the stove? Egg casseroles are versatile, earning them a spot on the list of great holiday food ideas. You can prep your casserole the night before, stash it in the fridge and pop it in the oven for about an hour, giving you ample opportunity to grab some coffee and set the table. For a savory breakfast, whip a dozen eggs with milk, and combine them with shredded cheddar, browned sausage, oregano and a couple of cups of torn bread. For a sweeter meal, add a little more bread, and swap out the sausage, cheddar and oregano for your favorite fruit, cinnamon and a drizzle of maple syrup. The easy ingredients make this a win-win.
Holiday Roasts
For a traditional holiday main dish, it's tough to beat a beautiful roast. When you pick the right roast, it's both easy and affordable. Glazed ham can be one of your quick recipes that require almost no hands-on effort. Other affordable ideas include a stuffed pork loin, herb-crusted turkey breast, and an eye of round or boneless rump beef roast.
Appetizer Ideas
When it comes to holiday entertaining, it's always good to have quick recipes on hand, particularly for appetizers perfect to serve last-minute guests. Toss your favorite nuts with melted butter, salt and a little sugar before roasting them and tossing them with fresh herbs. For something heartier, consider unexpected holiday recipes such as brie and veggie pastry bundles. Roll your veggies and brie in dough, brush it with melted butter, and sprinkle with salt and pepper before baking to melty, delicious perfection.
The holidays can be tough on a budget, and not just because of holiday food ideas. If you need wiggle room in your holiday budget,
apply
for extra funds at AmeriCash Loans before 11:30a CST for same day funding.* Whether you're using the money for holiday recipes or gifts under the tree,
AmeriCash Loans Installment Loans
help you breathe a little easier during times you need extra cash. Learn more or get answers to questions by contacting our
customer support team
or by visiting our
frequently asked questions
page today!