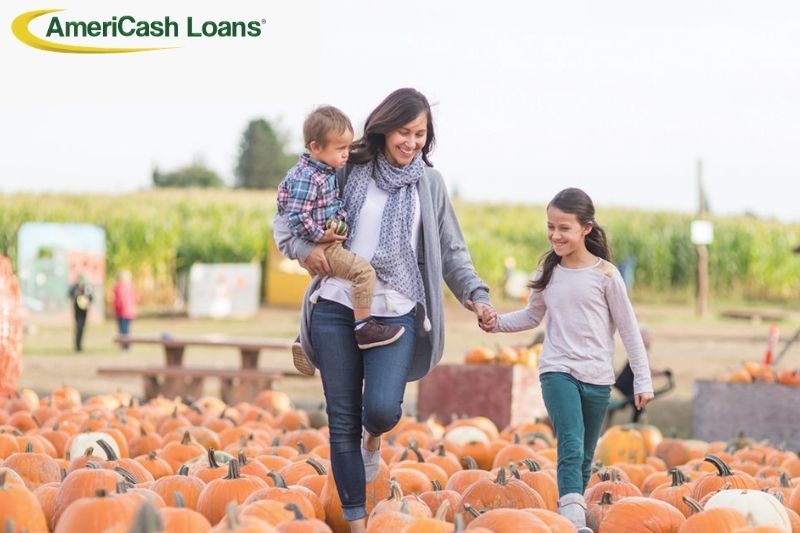 A Quick Guide for Fall Family Fun
---
Ah, fall. It's the perfect season to spend a little family time together. From free activities and outdoor fun to awesome DIY projects and easy crafts made with cheap supplies from the dollar store, we at AmeriCash Loans have put together a list of ways you and your loved ones can have an amazing time together this season.
Enjoy Outdoor Fun
The first place to go when you're looking to have a little family fun is your own backyard. Put together a scavenger hunt for the kids, or grab a ball for basketball, football, or soccer. Build a bonfire, roast marshmallows, and tell spooky stories.
Plant a Fall Garden
Another way to enjoy some outdoor fun and educational family time together is to plant a fall garden. Buy some cool-weather plants, like lettuce, broccoli, carrots, cauliflower, and all sorts of greens. Experiment with growing your own food and have fun making dinner together.
Do a Little Pumpkin Carving
Picking out your own pumpkin from the pumpkin patch is one of the most anticipated fall activities in every household. Bringing it home for a little pumpkin carving may be the second-most exciting thing to do. Make a day of it, and roast the seeds for a yummy snack after you're finished pumpkin carving.
Try Some Easy Crafts
Head to your local dollar store, and pick up some supplies to make easy crafts for fall. Use red, orange, and gold tissue paper to make stained glass leaves or make a sunflower out of a paper plate and a popsicle stick. You can find endless ideas on craft websites.
Don't Overlook Free Activities
Save some money and take a drive to look at the fall foliage, go on nature hikes, or a trip to the library to check out fall- and Halloween-themed books and movies.
Watch Football Games
If football is one of your favorite sports to watch then live stream the games from home. Don't forget to grab snacks and drinks to enjoy throughout them.
Have Fun at Festivals and Haunted Houses
If there's a fall festival or haunted house in your area, round up your crew, and go for some amazing fall family time. You'll create memories that will last a lifetime. Just make sure those haunted houses are kid-friendly.
Do Something Nice for Someone
There are plenty of free activities to do that allow you to spend time together and help out someone in need. Rake leaves for an elderly neighbor. Make some soup for a friend who isn't feeling well. You'll show your kids that you can still have fun while doing good for others with fall activities.
Family fun can always be in your budget when you apply for a loan. AmeriCash Loans offers installment
loans that allow you to take control of your finances. Complete the
online application
in minutes to get funded! If you have any questions during the process feel free to call our customer support team at 888.907.4227 or email
cs@americashloans.net
.