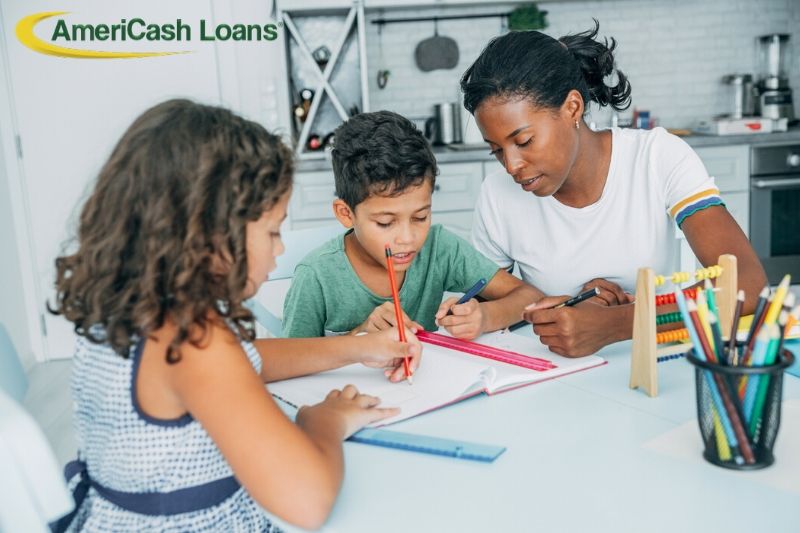 How to Make a Classroom at Home on a Budget
---
Kids gain many benefits from having a positive learning environment at home, and you can set one up without spending a lot of money. The right setting makes learning more enjoyable, and that applies whether you're teaching from home or simply want to give them a place to do homework from a traditional brick-and-mortar school. Setting up a home classroom for virtual school lessons, home schooling, or to just support learning is easy, and it doesn't have to be a budget buster when you use these five tips from AmeriCash Loans.
Make it Comfortable and Inviting
Creating a comfortable, visually appealing learning space is one of the first tricks for getting kids to welcome the opportunity to learn when you're teaching from home. Choose pretty colors for decor items and comfortable seating. Consider asking for your child's input to help build his or her excitement for using the home classroom area.
Provide Good Lighting
Good lighting makes it easier for children to see books and papers when you're teaching from home. Preparing written lessons is also easier when the lighting is bright and clear. Consider positioning the table or desk under a ceiling light fixture, near natural light sources for daytime studying, or choose a table lamp for spot lighting.
Use Technology When Possible
If you've chosen a virtual school to educate your children in a home learning environment, technology such as laptop, desktop PC, or a tablet is a necessity. Some virtual school providers will give you the required technology; however, if you've chosen a virtual school that doesn't provide the tech you need, keep
AmeriCash Loans
in mind to help you cover the cost of getting started.
Get Cheap Books to Support a Healthy Reading Habit
Children who have books in the home are more likely to grow up to be lifelong readers. It doesn't matter if the reading material is expensive or a set of cheap books, the effect is the same. A great place to find affordable books is the thrift store or a used bookstore. Since the prices are so low, you have the option to provide a bigger variety of reading materials for your home learning environment.
Dollar Store School Supplies
Your nearest dollar store is an excellent place to find school supplies at a reasonable price. Things to look for at the dollar store include cheap books to add to your reading collection and many types of basic school supplies. Other dollar store items to add to your home classroom include pens, pencils, markers, and crayons as well as notebooks and drawing tablets. Also, consider picking up some folders, labels, paper clips, and staples to make it easy to keep the space organized.
Need some supplies for setting up a comfortable, effective learning environment for your kids? Find everything you need for your home classroom with a bit of help from AmeriCash Loans. It's easy to
apply online
and only takes a few minutes. We also offer a Refer-A-Friend program so you can earn some extra cash by telling your friends about us. For every friend you refer you'll earn $100, and they'll earn $50, too!