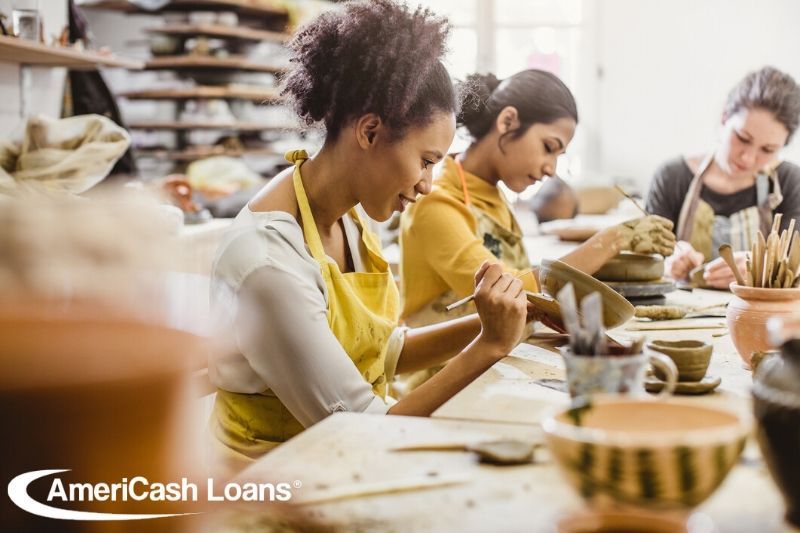 How to Stay Busy This Winter
---
Have the winter blues got you down? You're not alone. Gray skies, cold temperatures, and damp weather that seems to last for months can have that effect on practically anyone. The important thing to remember is that you don't have to stay bundled up in your house wishing for spring. There are many winter activities that can help you stay busy and get your mind off the seasonal blahs. That's why we at AmeriCash Loans have put together this list just for you.
Get Active
Just because it's cold outside, that doesn't mean there aren't dozens of winter activities and sports for you. You can participate, no matter your ability. Skiing, sledding, tubing, snowboarding, ice skating — they're all fun and make for great ways to stay in shape, too. If you're not a winter sports fan, you may be wondering what to do inside. Consider signing up for a bowling, indoor basketball, or indoor dodgeball league. And if you're not the sporty type, find a mall or indoor track to go for a walk.
Explore Your Creative Side
If you've been thinking about starting new hobbies like crafting or painting, there's no time like the winter months. Crafting is an excellent choice for all ages and abilities, and you can do it for fun or sell your work online or at craft fairs. You may even find local crafting and art classes at some of your local big box stores or community centers. You'll be so busy making arts and crafts that you'll forget all about that snow and ice.
Learn a New Skill
Speaking of new hobbies, not everyone is artistic, but there's probably something you'd like to learn how to do. Perhaps you've always dreamed of taking cooking classes, learning a new language, or picking up a new musical instrument. Not only are classes a great way to stay busy, but they're also a great way to meet new friends.
Take a Quick Trip
Spending a week at the beach in the middle of January may not be an option, but going somewhere warmer for a few days is more fun than wondering what to do inside. Load up the car and head south to a place where temperatures are a little warmer or the sun is a little brighter. Just spending a few days soaking up rays can help turn around those winter blues.
Get Organized
Don't wait until spring to do your spring cleaning. Organizing drawers and closets, getting rid of stuff you don't want, and deep cleaning your home are excellent ways to stay busy during the winter. Getting organized can even free up your time to do something a little more fun when April rolls around.
New hobbies and winter activities are great, but some of them aren't free. Don't sit around wondering what to do this winter because you don't have cash — instead apply for an installment loan from
AmeriCash Loans
. Contact
AmeriCash Loans
with any questions, or visit our website to start your application
here!