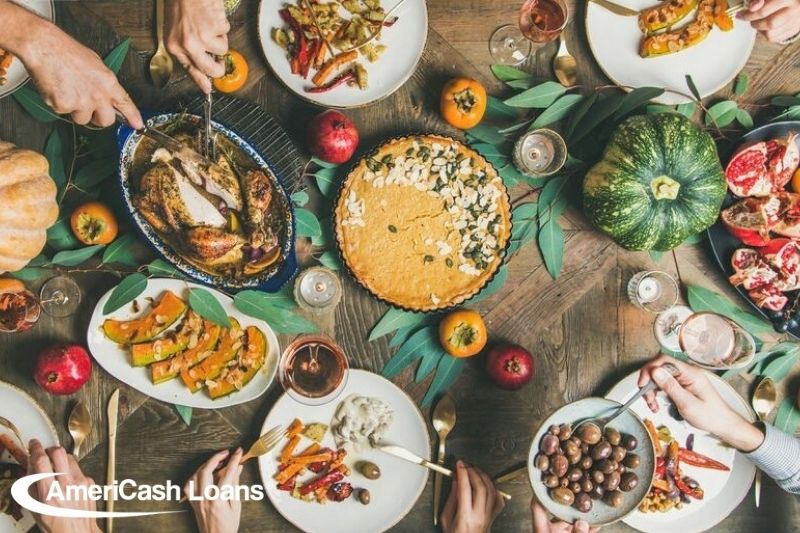 The Easiest Ways to Save on Thanksgiving Dinner
"Save Money"
"Tips and Tricks"
---
Unlike other holidays, you don't usually have to buy gifts or too many decorations for Thanksgiving, but that big holiday dinner can gobble up your bank balance. The Thanksgiving turkey can cost $30 or more, and that's just one part of the meal. If you're looking for ways to save money this holiday season, we at AmeriCash Loans have some ideas for serving your most affordable Thanksgiving dinner yet.
Get Organized
First, come up with a game plan for your Thanksgiving dinner. Find out exactly how many people are coming, and create a menu around that number. Look online for cheap recipes that will help you save money. Make a grocery list for every item you'll need, including items you may not normally buy, like extra spices and aluminum roasting pans for your turkey. Check with your local grocery stores for promotions, coupons, and sales on the items you need.
Know Your Thanksgiving Turkey Facts
The Thanksgiving turkey is the star of the show, but it's also the most expensive dish. Keep in mind that you only need a pound of meat per person, or a little more if you want to send guests home with leftovers. If you're having a small Thanksgiving dinner with only six people, you don't need to splurge on a 25-pound bird. You may not even need to buy an entire turkey; just a breast will do. Keep in mind that if you buy a frozen turkey, it's likely going to be cheaper than a fresh one.
Stick to the Basics with Easy Side Dishes
It's tempting to show off your cooking skills with those fancy recipes you found online, but easy side dishes are a great way to save money. Instead of experimenting with a potato souffle, just make mashed potatoes. Instead of buying fresh bread from the bakery, go with inexpensive dinner rolls from the bread aisle. Look online for affordable recipes that don't require more than a few ingredients.
Don't Be Afraid of Generic Labels
Another good thing about easy side dishes is that you don't need to buy name-brand products when you shop. If the cheap recipes you find online call for frozen or canned vegetables, choose the store brand if it's cheaper. This goes for everything from shredded cheese to boxed stuffing mix.
Have Everyone Bring a Side Dish, Drink or Dessert
If you feel comfortable asking your guests to bring a dish, do so. You can make the turkey, but have guests each bring a side dish or dessert. What about that uncle who doesn't cook? Have him bring soda or juice to accompany the meal. A potluck is a fun and easy way to save money on your meal.
If your budget is still tight this holiday season, don't stress;
apply for extra funds
at AmeriCash Loans.
AmeriCash Loans
offers installment loans for those important moments in life when you need extra cash. If you have any questions before you apply contact our
customer support team
or visit our
frequently asked questions page
today!