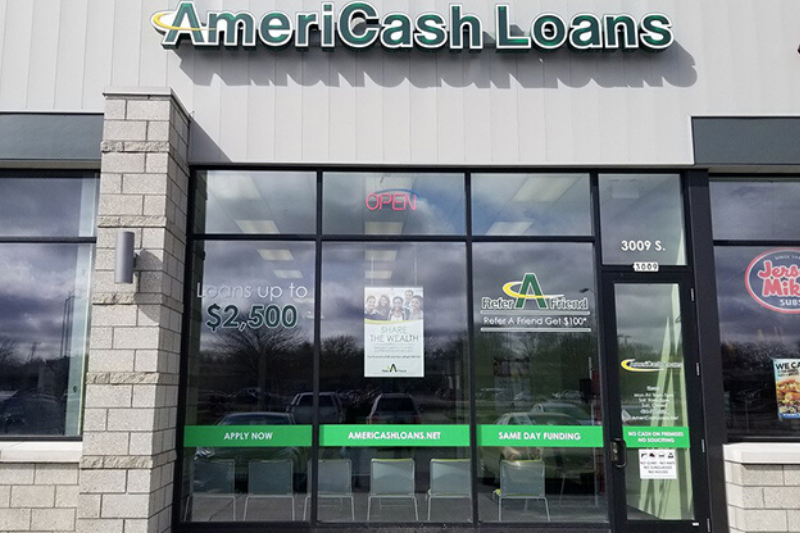 Why Our Customers Love Visiting Our Stores
"AmeriCash Loans"
"Apply Now"
Illinois
Missouri
"South Carolina"
Wisconsin
---
AmeriCash Loans offers installment loans online and in-store. With over fifty-nine store locations throughout Illinois, Wisconsin, Missouri, and South Carolina we make it convenient to get funded! You can choose to apply online and receive your direct deposit the next day or head to a store to apply and receive your money the same day. Whatever option you may choose, we are committed to providing excellent customer service to every customer, everywhere.
Our customers feedback is the reason we pride ourselves on our service. If you're thinking about visiting one of our store locations then keep reading to see what our customers are saying about their in-store experiences below.
Great Customer Service
One of the main reasons that drive our customers to the stores is for the service and the chance to establish a trustworthy relationship with our team members. We truly care about our customers and it is easily shown because we work with you to ensure satisfaction in every encounter we have.
Ivan L. from our
Lake and Western, IL
store said:
"They were such a great help. Legit the best customer service I've ever received. Worked with me and made it happen for me. I definitely would recommend."
Here's what Jessica W. from our
State and Superior AmeriCash Loans store
in Chicago, IL said:
"Awesome experience, lovely service. They made my experience excellent."
Quick and Easy
Although applying online is convenient, it is not always preferred by everyone, that is why we have made the in-store application as fast as the online one. You can even call ahead to apply through the phone and pick up your check at lunch time or at the end of your work day. We try to give you as many options to get you your money as quickly as possible.
Pamela A. came to our
27th and Oklahoma location
in Milwaukee, WI and said:
"Great place to go if you're in need for extra cash! They walk you through the application and document. I was approved in 15 minutes with a check in hand 5 minutes later. Thank you AmeriCash!!!"
Deja H. visited AmeriCash Loans on
59th & Ashland
in Chicago, IL and said:
"Easy, fast service. I got my funds the same day, thanks AmeriCash Loans."
Helpful and Patient
At AmeriCash Loans we strive to be as helpful and patient with you throughout the loan process. This may or may not be your first time getting a loan, whatever the case may be, we help explain any questions or uncertainties you have along the way.
K.N., a customer from our
Columbia, SC location
stated:
"The staff here was very professional and friendly. It made my first experience here memorable. They were very patient with me getting all my information. They're the best!!"
Here's what Desiree C. at our
Dellwood, MO AmeriCash Loans
has to say:
"Deshawn was very nice and helpful. Best experience ever… best place to go if you ever need an installment loan."
To experience great customer service, a quick and easy process, with helpful and patient representatives then head to your local AmeriCash Loans store. All you need to bring is a valid photo ID, verified bank account, and proof of income. You can find the closest location near you by using our
store locator
. We look forward to meeting you and addressing your financial needs!