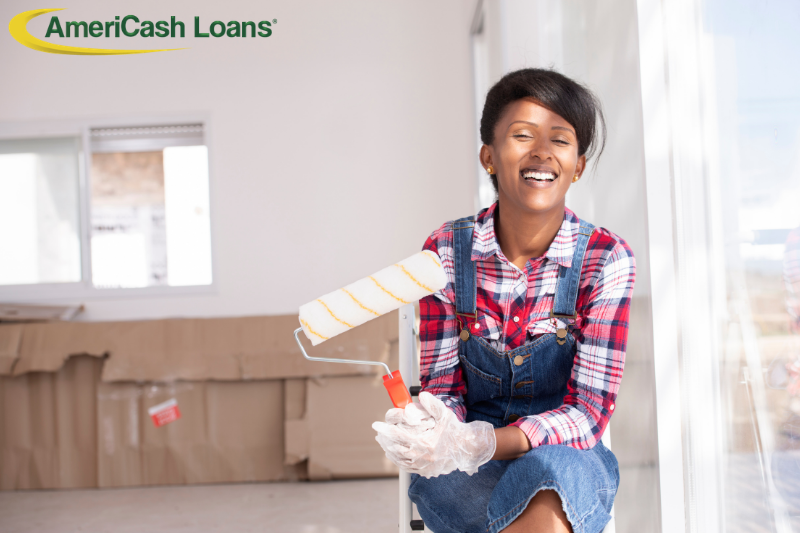 Affordable Home Improvement Ideas
"Home and Auto Repairs"
"Save Money"
---
DIY projects can make your home improvement goals easy to achieve on a budget. These home improvement ideas from AmeriCash Loans are things you can do to create a big visual impact while you still save money. Tasks like painting walls, trim, and cupboards add instant changes without a lot of cost. Also, consider changing lighting types or putting down inexpensive flooring options for a bold floor to ceiling change you can achieve on a budget.
Painting Walls, Trim, and Cupboards
Painting is one of the first home improvement ideas you can do when you want a big change without spending a lot. Prepare for the task by picking up tarps or plastic drop cloths to protect the floors and furniture. Then make sure you're able to reach everything you want to paint. If you can't quite reach high areas, consider adding a ladder or step stool to your project shopping list.
Changing the Lighting for a New Effect
Changing the lighting is another DIY project you can do that adds a big impact without costing a lot. If your home has bright lighting, consider adding soft lighting to some areas with a sconce-style fixture, or replace the wall switch with a dimmer switch so you can vary the brightness based on your activities.
If the lighting is too dim, consider brightening the area with additional fixtures, such as track lighting or under-counter lighting. You could also place lamps around the perimeter of the room so you can brighten or dim the level of light in the room without changing the existing light fixtures.
Inexpensive Flooring Ideas
While changing the flooring might sound like a costly home improvement project, there are some ways you can save money when creating a new flooring effect and staying on a budget. First, consider vinyl floor tiles or carpet tiles that come pre-coated with adhesive backing. The waxy paper layer peels off and you stick the tiles to the clean floor. It's a quick and inexpensive way to change the appearance of a room.
A second flooring idea is to strategically place area rugs. If high-traffic areas of your floor are showing some wear and tear, consider placing an area rug with a non-skid backing over the worn areas. It only takes a few minutes to put the area rugs in place and it gives your room a new visual effect without a lot of expense.
You can save money while making your home improvement ideas into reality by tackling one or all of these easy DIY projects. If you need a bit of help funding your DIY projects,
apply
for a fast, secure
Installment Loan
from AmeriCash Loans. You can quickly achieve your home improvement goals with the extra funds. After filling out the easy loan application, you can earn some extra cash when you
Refer-A-Friend
to AmeriCash Loans.