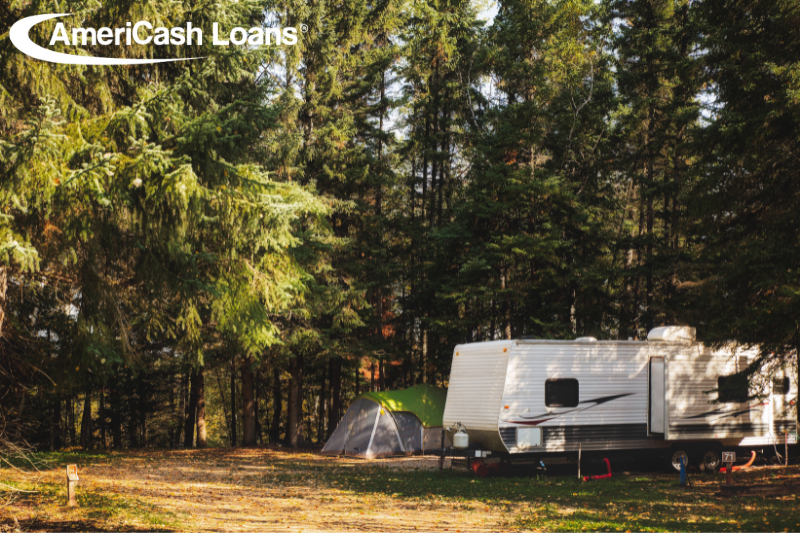 Tips for a Budget-Friendly Camping Trip
"Save Money"
"Tips and Tricks"
Vacation
---
Camping on the cheap is a fun way to enjoy summer weather and make special memories with your family. This list of camping essentials and tips for cutting costs from AmeriCash Loans can help you get started with making plans. Additionally, if you need some extra cash for your vacation, consider applying for one of our fast loans.
Make a List of Camping Supplies
Planning ahead can save you money. Here's how. Get started by making a list of camping supplies you plan to take on your trip. It's best to do this as far ahead as possible. That way you have time to shop sale ads for the things you need. You may also find there are some things on your list of camping supplies that can be rented cheaper than buying.
Research United States Campgrounds
When you start looking for a spot to set up camp, you'll notice a wide range of prices. You can save money by shopping around for budget-friendly campsites. Look for United States campgrounds that are away from main attractions, such as beaches, to cut costs. Additionally, consider camping during the week instead of on a weekend to enjoy off-peak campsite rates. One more way to cut costs is by checking for free United States campgrounds that are managed by the U.S. Bureau of Land Management.
Choose Discount Outdoor Gear
When shopping for camping essentials, like cheap tents for sale, you find a lot of variety in terms of prices and quality. There are pros and cons to choosing discount outdoor gear. For example, picking from a selection of cheap tents for sale you might find an affordable tent that's made of lower quality. If you expect to camp somewhere where there's mild weather and very little wind, this can save you some money.
Pack Light
When camping on the cheap, your supply list is especially important. You need to make sure you have the things you need but not so much that you're hauling a lot of extra stuff around the campsite. Choose functional and breathable garments that can accommodate different weather situations. That way, if you get drenched in a rainstorm when hiking your clothes can dry quickly. Also, plan to pack the grooming supplies you need to stay clean and comfortable, especially things like toilet paper and hand sanitizer.
Plan Meals That Are Easy to Pack
Plan meals that don't require refrigeration unless your campsite has electricity and you're taking a mini-fridge. Or, plan a few meals that can be packed in a cooler with ice and some dry foods or canned items. Anything you do to reduce the number and size of things you have to pack and carry can make your trip better. It can also keep you from paying higher prices that come with shopping near a tourist destination.
Getting started on summer vacation plans? Need some help with cash for camping essentials and discount outdoor gear?
Apply
for one of the fast loans from AmeriCash Loans. It's quick and easy to apply and you can get funded the same day! Restrictions may apply.