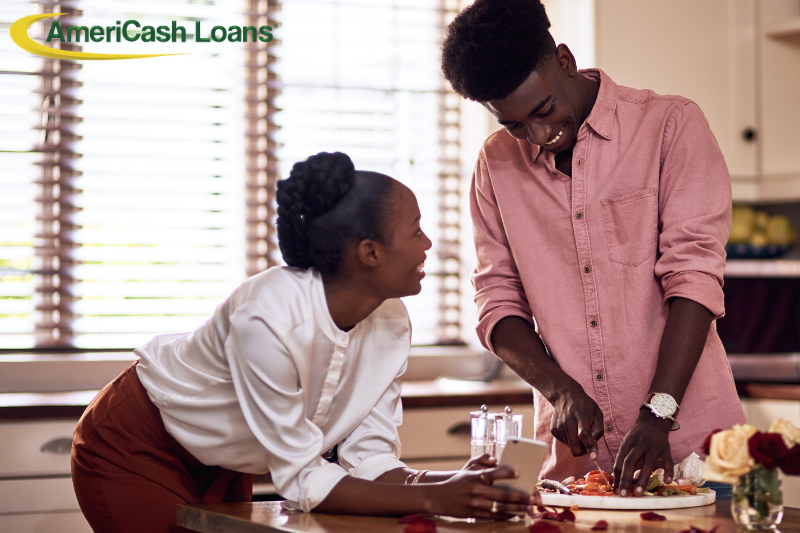 Budget Friendly Valentine's Day Plans
"Save Money"
"Tips and Tricks"
---
Making Valentine's Day plans can seem overwhelming, especially when you're on a budget. But you may be surprised just how much fun you can have with a homemade dinner, movie night, or something else that can help you save money. At AmeriCash Loans, we put together a list of our favorite affordable date nights and inexpensive Valentine's Day plans.
Stay in for Movie Night
For the price of a streaming service membership, you can have movie night without leaving your home. From the latest blockbusters to the classics, almost any movie you can think of is right at your fingertips. Grab pizza or your favorite takeout and spend a romantic evening at home in front of the TV.
Have a Picnic
If you'd rather get out of the house but don't want to splurge on a fancy restaurant, try a free park, instead. Pack a favorite meal and a blanket, and have an old-fashioned picnic. During the day, you can watch people go by. At night, you can watch the stars. Just don't forget to check the weather forecast.
Cook a Homemade Dinner Together
Another alternative to a fancy meal out on the town is to stay home and cook a homemade dinner together. Search online for a recipe you'll both love or something you've always wanted to try. Share tasks, eat and enjoy the night. Leave the dishes for tomorrow.
Take a Hike
If you like to stay moving, pick a park or outdoor spot you've always wanted to see and plan a romantic hike. Pack some snacks and choose a beautiful destination where you can take lots of pictures to remember your special day.
Go Bowling
Bowling on a budget is possible if you plan it right. Find out if your local alley has any Valentine's Day specials or check your favorite coupon apps for deals. You can also save money by skipping the snacks or bringing your own shoes and equipment.
Check Out a Local Historic Site
Another way to save money but still get out of the house is to become a tourist in your own hometown or somewhere nearby. Pick a small museum or historic site and check it out. Many smaller sites are free or inexpensive to visit or accept donations. Choose something that interests you both.
Learn Something New
Be productive on Valentine's Day by learning something new together like a dance step, a language, or how to cook a certain meal. Look online for free or cheap classes in your area. If you prefer to do it from the comfort of your home, check YouTube for instructional videos.
Shop on a Budget
If you and your partner enjoy shopping but you don't like spending, consider an afternoon of budget shopping for your Valentine's Day plan. Visit some garage sales and estate sales in your area. Check out the local flea markets or thrift stores. Make a list of items you'd like to find for your home. Make a game of it and try to see who can find the most original gift for the other.
At AmeriCash Loans, we know that big events like Valentine's Day can put a strain on your budget. Don't disappoint your partner. Consider an
Installment Loan
s from AmeriCash Loans.
Applying for Installment Loans
is quick, easy, and secure.
Contact our customer support team
to learn more or visit our
How It Works page
today!