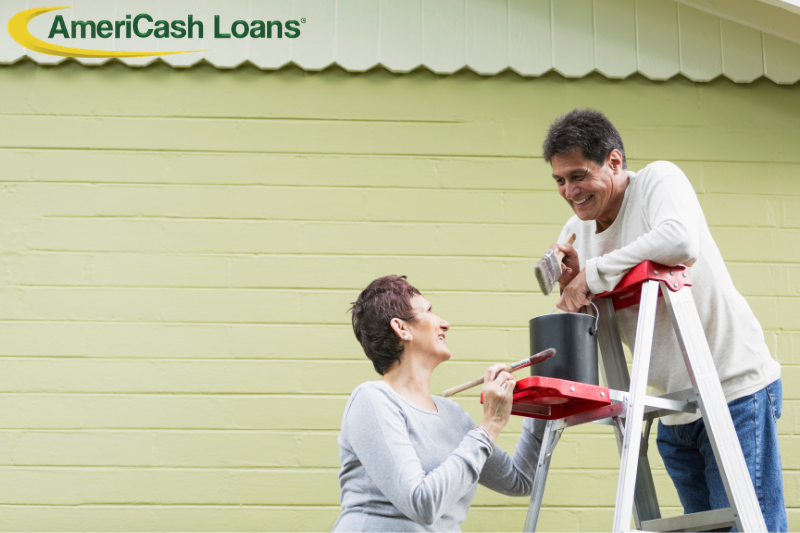 Americans spend billions every year on their backyards. Whether you're planning an outdoor kitchen or a lush garden, you'll need some things to get your backyard projects going. Check out these backyard DIY ideas from AmeriCash Loans for low-cost options to upgrade your outdoor spaces.
DIY Patio Ideas
Decks and patios define the space, giving you room to entertain and relax. Building a deck requires a handyman and can be expensive. But there are some inexpensive patio ideas you can do yourself for a weekend backyard project.
For example, you can make a floating patio deck using pallets, which cost little to nothing depending on where you find them. Finish them in your desired color. Arrange them on a level area of the yard and voila! Instant patio. Alternatively, you could make a floating deck from deck boards and pressure-treated lumber set on concrete blocks for stability. Other DIY patio ideas include using pavers for a concrete-like appearance or filling an excavated area with gravel for a less traditional take on a backyard patio.
Create a Garden Path
Looking to add to your outdoor space? Garden paths are functional yet whimsical backyard DIY ideas that can be created with different materials and a few garden tools. It's a great way to dress up areas leading from your home to your patio, playhouse or pool. You can also use a garden path between planting beds to make access easier. The money and time you'll spend depends on the path's size and the materials you choose. You could use garden tools to excavate the area and fill in with mulch or gravel. Or, you could lay stones or pavers on top of mulch for a relatively fast backyard project that adds some appeal to the space.
Light It Up
Draping string lights from rooftops or pergolas across your outdoor living space adds instant charm. Try lining garden paths or your patio with torches or lanterns. If you're looking for backyard DIY ideas that don't involve electrical work, consider investing in solar options. These work particularly well in sunny locations where they charge during the day before lighting up the evenings and nights. You'll find solar string lights, lanterns, torches, candles, and pathway lighting.
Accessorize The Area
Whether you're looking to cool off on a hot evening or add soothing sounds to your outdoor space, there are easy ways to achieve your backyard project goals. Pools are expensive and require fairly involved installation. But if you use a stock tank, you can get to splish-splashing faster than you'd expect while giving your space a farmhouse feel. Install it on a level area, such as your deck or patio, and fill it. If you're looking to add color, give it a bright paint job. If you want to create your own fountain, all you need is a container or two, a fountain kit, and a little creativity.
Paint your planters, add an outdoor rug to your deck or patio, and hang hummingbird feeders and other bird feeders in the yard to entice colorful friends to visit. There are so many easy backyard projects that don't require any garden tools at all, and many — like those above — that require simple garden tools and a little DIY effort.
Need a little extra cash to fund your backyard DIY ideas and dreams? AmeriCash Loans offers
Installment Loans
that make it easier to enjoy your great outdoors. The
online application
only takes a few minutes and if you apply before 11:30a CST you can get funded the same day. Restrictions may apply. Visit our
How It Works page
today to learn more.