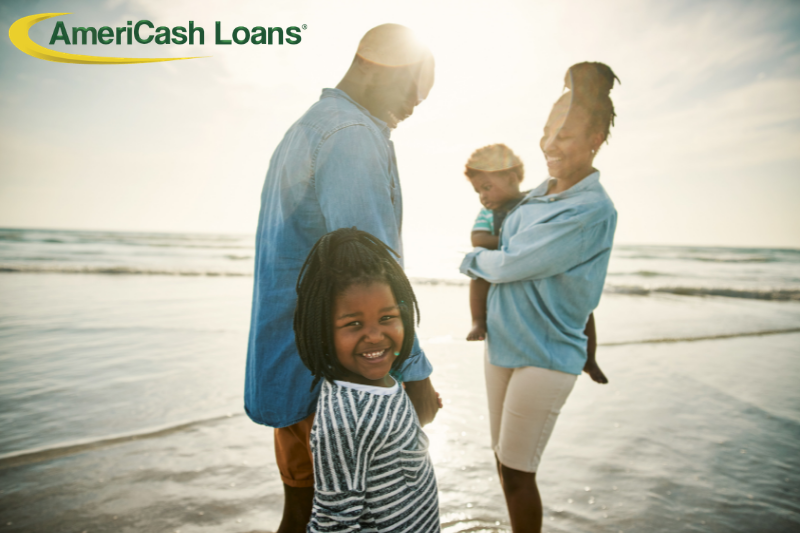 10 Essentials for a Beach Day
---
Beach season is here, which means it's time to pack up and head out for some sun, sand, and surf. Before you go, make sure you have your essentials ready for you and your family. With that in mind we at AmeriCash Loans put together a list of our favorite must-haves for a beach day.
1. The Best Sunscreen
Staying safe on your beach day should be top priority, and that's why you need the best sunscreen. But with so many options on the market, how do you know which is the best sunscreen? Choose one with broad spectrum protection, and aim for a SPF of 30 or higher. Don't forget to further protect yourself from the sun with sunglasses and a hat.
2. An Oversized Beach Towel
You already know you need a beach towel, but what you really need is an oversized beach towel. An oversized beach towel covers more ground if you plan to sit or lay on it, and it absorbs more water when you're ready to dry off after a swim.
3. Cooler With Wheels
Staying hydrated is a must when you're spending a hot, sunny day on the beach. The best way to do that is to invest in a cooler with wheels. Coolers get heavy when they're filled with ice and drinks, but a cooler with wheels is easy to pull along from your car or hotel room to the beach.
4. Portable Bluetooth Speaker
You can't have a beach day without good music. Consider investing in a portable Bluetooth speaker so you can play your favorite phone tunes. Just don't play it so loud you annoy your neighbors.
5. Portable Phone Charger
You can't have music if your phone battery keeps dying. A portable phone charger ensures you have constant access to your music and you can use it to keep your phone charged in case of an emergency.
6. Sand and Beach Toys
Bringing the kids? Make sure you have toys for the beach. Buckets and shovels are always fun for building sandcastles and beach balls are a must. Don't forget a boogie board for those aspiring young surfers who want to play at the edge of the water.
7. Canopy, Umbrella, or Tent
Stay out of the sun by investing in a quality canopy, umbrella, or tent you can set up on the beach. It'll provide you with a nice place to cool down, relax, or even take a nap.
8. Snacks
If you plan on spending the day at the beach, you're probably going to get hungry. If you're near a boardwalk you may have some options for food, but they can be costly. Instead, save money by packing your own snacks. If you have space in your cooler, you can even make some sandwiches.
9. Folding Chairs
If sitting in the sand is not your idea of the perfect beach day, consider investing in some quality beach chairs you can park under your tent. They'll keep you clean and comfy.
10. A Good Beach Bag
Finally, you'll need to carry those essentials in a beach bag. Get a good one that's not going to break after one or two uses. Look for sturdy straps and even consider getting one that's insulated to help keep your items cool.
Ready to head to the beach but don't have the cash? Consider same day loans from
AmeriCash Loans
. It's easy to apply with our quick and
secure application
.
Contact AmeriCash Loans
today to learn more about our process and how we can get you funded the same day. Restrictions may apply.