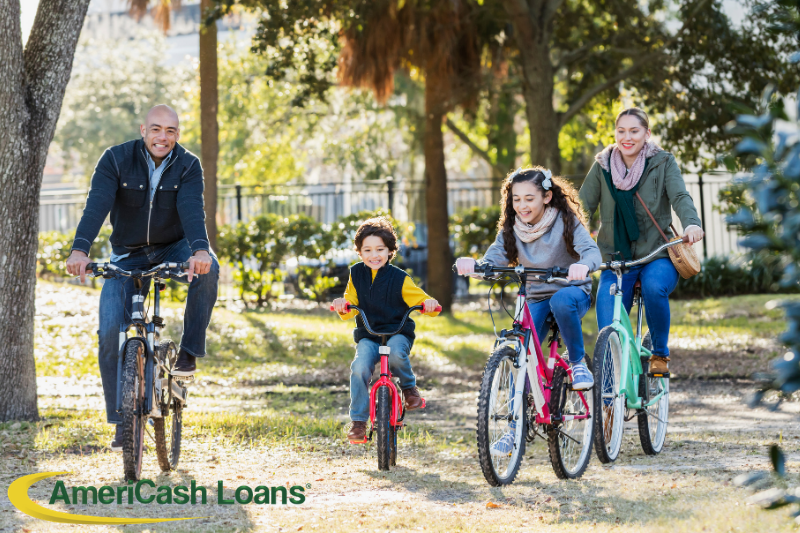 Inexpensive Ways to Get in Shape
---
If your plans for this year involve getting in shape but you're on a budget, don't panic. You don't need an expensive monthly gym membership to lose weight, get fit, and get healthy. At AmeriCash Loans, we've put together some of our favorite ways to stay in shape, all of which are inexpensive and some are even free.
Take a Walk
The best place to start when you're trying to figure out how to get in shape is to walk. Get out in your neighborhood or find a track at a local high school or hit the nature trail at your favorite park. If it's hot, cold, or raining outside, walk your local mall. Mix it up if you enjoy a change of scenery each day.
Look Around the House for Cheap Weights
If your plan is to build muscle and you don't know how to get in shape without barbells or expensive equipment, take a look around your house. Cheap weights are everywhere including gallons of milk or laundry detergent bottles, soup cans, books, and pet food. Now you have cheap weights and a muscle-building workout.
Streaming Home Workouts
Home workouts have many advantages over gym workouts. You are not waiting for a certain machine to be available. You can blast your favorite music. Best of all, you can save time and money when you're on a budget. Look to your favorite streaming services, or head to YouTube for all the free and inexpensive home workouts you can handle. You'll find everything from kickboxing to yoga to salsa dancing.
Download Free Fitness Apps
You'll also find free and cheap home workouts by downloading a popular fitness app for your iOS or Android device. Besides videos, you'll usually get tips on how to get in shape, recipes for healthy meals to cook, and more information to help you along your fitness journey.
Play
Getting fit on a budget doesn't have to be boring. If you have a dog, get out and play fetch. If you have kids, play tag in the backyard. Challenge your friends to a weekly pick-up softball game or meet your sister for tennis a few times a week. Grab a jump rope or blast some music and start dancing. Just move!
Minor Routine Changes
Sometimes the first step to getting in shape is making a few minor changes to your daily routine. Switch out soda or coffee for water. Take the stairs instead of the elevator. Walk to the store instead of driving. Use your lunch break to exercise, or get up and do sit-ups and push-ups during commercial breaks while watching TV.
Cook Healthy Meals
Trading in your fast food and takeout habit for meals you've cooked at home can make a huge difference. You'll control how much sugar and salt you eat, and you'll save money, too. Look for healthy meals to cook online and you'll find thousands of recipes available for free.
Cutting out your gym membership can help you save money, but sometimes it's not enough. That's where
Installment Loans
from AmeriCash Loans can give you a little boost. Installment loans are fast, secure, and
easy to apply
for. Learn more on our
How It Works page
. If you have any questions during the application process please contact our
customer support team
at 888.907.4227.