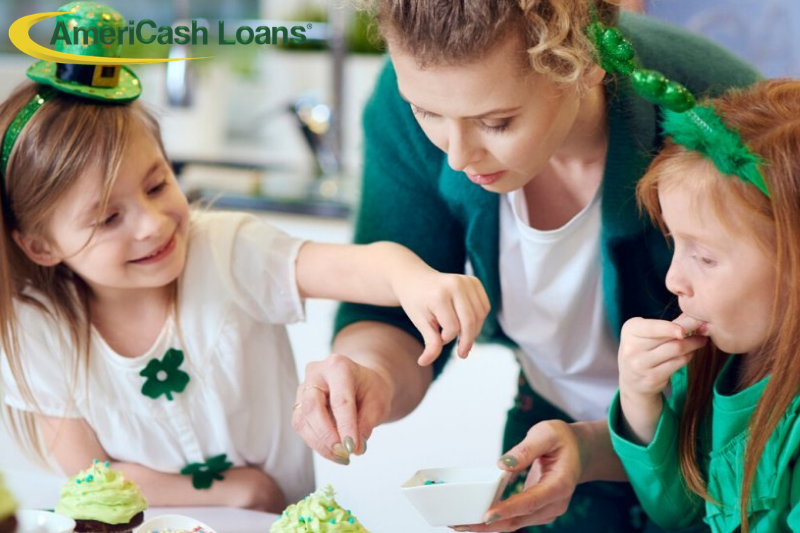 St. Patrick's Day Fun for the Kids
---
Looking for some fun family activities for St. Patrick's Day to keep your kids busy and entertained? These St. Patrick's Day activities for kids from AmeriCash Loans can help you create a fun and memorable way to add some fun to the holiday without having to spend a ton of money! The activities for kids include a treasure hunt, decorating baked goods, and making green kids crafts.
Luck o' the Irish Treasure Hunt
You can plan an inexpensive and fun Irish-themed treasure hunt without spending a lot of money. Stop at the dollar store or any store that sells St. Patrick's Day goodies for small black plastic leprechaun's pots that have little handles for kids to hold. St. Patrick's Day goodie bags will work if you can't find leprechaun's pots.
Buy foil-covered chocolate coins and other bite-size sweet treats. Also, consider getting some trinkets for older kids, such as green plastic beads or small toys. Hide the candies and toys all around the room, then let the kids find and keep the treasures. If there's a big age difference between your kids, consider setting ground rules that have the big kids help the younger ones so everyone gets about the same amount of treats.
Decorate Cookies or Cupcakes
Baking a batch of sweet treats is a way to warm up the house on a chilly day, and decorating the treats for St. Patrick's Day makes a fun activity for kids. Cupcakes and shamrock-shaped cookies can be used for these fun family activities by offering green frosting and sprinkles in any color. Be sure to spread out some waxed paper to catch the mess if anyone drops any icing to save time on cleaning up after your kids are finished decorating the treats.
Green Kids Crafts
Get out the construction paper, glue, and other craft supplies to make some easy St. Patrick's Day activities for kids. Choose green construction paper to make crafts featuring leprechaun hats and shamrocks. Some green kids crafts for older kids could include more detailed shapes, such as harps and shillelaghs, which are both traditional Irish-themed items.
Potatoes are also considered traditional Irish items by some, so for an eco-friendly, green-themed activity, consider adding a touch of science to your crafting time and letting the kids start growing a potato plant by planting sprouts in a flower pot filled with soil.
Need some extra cash for craft supplies or sweet treats for St. Patrick's Day? Submit the fast, easy
application for Installment Loans
from AmeriCash Loans. In addition to applying for
Installment Loans
to fund fun family activities, you can
refer your friends
. When they apply for a loan from AmeriCash Loans, you both earn some extra money!