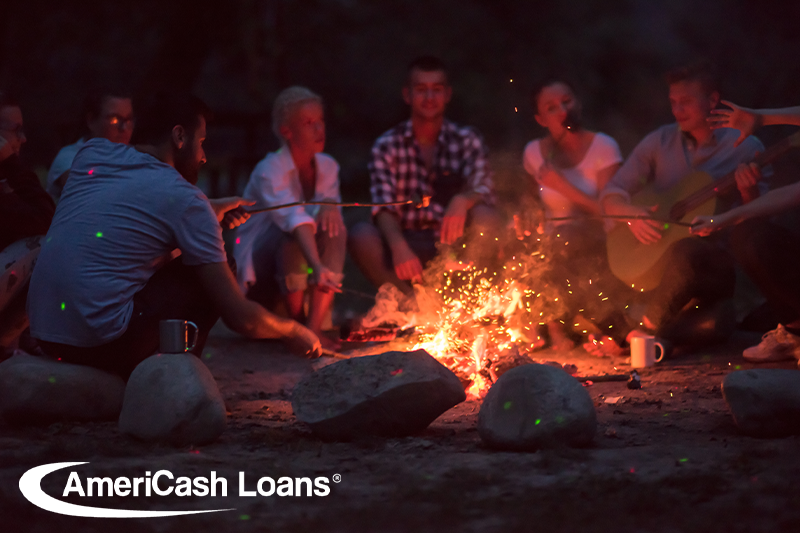 Safety Tips for Bonfires and Campfires This Fall
"AmeriCash Loans"
"Apply Now"
"Installment Loans"
"Tips and Tricks"
---
The crisp fall weather is a terrific time to gather around a fire with friends and family or huddle around a campfire while you take in the gorgeous fall foliage. Though bonfires are synonymous with the brisk autumn months, it's important to follow a few guidelines to keep everyone safe.
Set the Fire Up in the Right Spot
Your bonfire should be 25 feet away from any structures or buildings. Choose a level spot clear of any sticks, dry leaves, shrubs, and overhanging branches. Keep the fire less than 5x5 feet in size to keep the fire comfortably contained.
Know What Items Can Go in the Fire
Avoid starting an outdoor campfire with kerosene, gasoline, or other flammable liquids, as these substances can cause the fire to flame more and potentially burn you. Instead, gather small twigs and leaves and get the fire started with a match or lighter. As it grows, you can slowly add larger sticks and dry pieces of wood.
Never burn canisters or anything with aerosols, paint, or foam; all these items have chemicals with flammable ingredients and can spread toxic fumes and explode, causing injury. If you're going to use campfire cooking to prepare dinner or s'mores, you don't want chemical fumes around your food.
Have the Right Equipment on Hand
A source of water (like a garden hose) or a bucket of water should always be close in case the fire starts to spread. When it's time to extinguish your fire, let it burn out and pour water over the ashes until no burning embers are left. Store the cooled ashes in a designated metal can. Choose non-flammable clothing and wear shoes with a stiff sole in case some sparks escape from the fire. Hard-sole shoes are much less likely to ignite than rubber footwear.
Get the Money You Need for a Memorable Fall
Don't let money problems keep you from planning a fall gathering or taking an exciting camping trip. AmeriCash Loans offers flexible
installment loans
that help you get the money you need. You can apply for a short-term loan online, and loans are available for up to $2,500. The application process is fast and straightforward; you can use the funds however you want. Pick up new camping supplies or make a reservation at your favorite campground.
Visit AmeriCash Loans to
apply for financing online
.