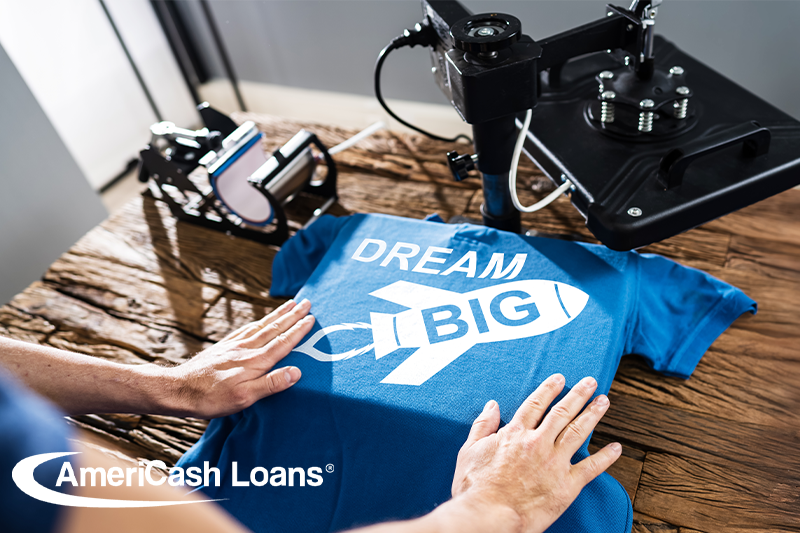 Getting Into the Custom T-Shirt Business
"AmeriCash Loans"
"Apply Now"
"Installment Loans"
"Tips and Tricks"
---
Are you considering getting into the custom T-shirt business? T-shirt design is a booming industry with many possibilities for making extra money on the side. If you are interested in starting this side hustle, you can either create your own brick-and-mortar and purchase the materials and equipment you need or use a third-party service to print and send your designs. Many websites will allow you to design T-shirts and sell them on their sites. These sites include Zazzle, RedBubble, Printify, UberPrints, and TeeSpring. Most of these companies do not need an upfront cost. However, you may need some design products.
For instance, many people who start these businesses have a Pro Canva membership to assist with uncomplicated design. Besides using Canva, many people choose to buy creative assets to use in their designs. The most popular websites for creative assets include Creative Market and Creative Fabrica. These websites will allow you to buy design elements, social media designs, and mock-ups. Mock-ups are especially important because they enable you to put your design into another photo. For instance, the mock-up could be a model wearing a blank t-shirt, and you place your t-shirt design on the model and have professional-looking advertising!
When designing t-shirts, you can make all kinds of designs. Often you will start with a plain white t-shirt or men's designer t-shirt and add something to it. This could be words, a funny phrase, a photo, a graphic, or a pattern. The choices are endless, and the only thing that limits your designs is your creativity.
If you have seen t-shirts with funny photos and slogans and thought you could do that, why not give it a try? Making your own T-shirts can be so much fun, and T-shirt design is a creative outlet where you can also make a lot of money. If you end up loving this, you can continually expand your business into other things like coffee mugs, notebooks, stationery, and home furnishings.
Start Your Custom T-Shirt Business Today!
If starting a side hustle like this interests you, you may want to know more about getting a
short-term installment loan
. AmeriCash Loans can offer up to $2,500.00 in installment loans to get you started!
Do you love learning about new ideas to make money online? Check out the
AmeriCash
Loans Blog
, as we have tons of content you will be interested in! This includes business, finance and holidays, and entertainment. There is something for everyone to read on our blog.