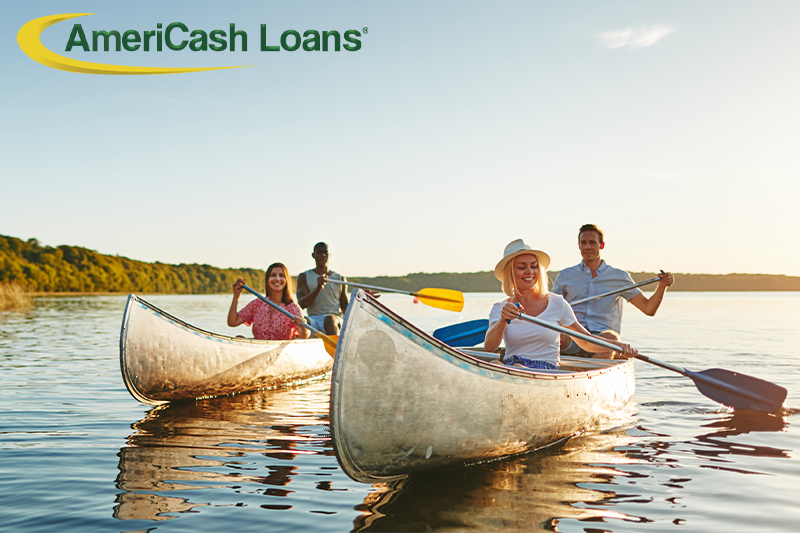 Ready to spend a couple of days swimming, relaxing in the sun, and participating in exciting water sports? An installment loan from AmeriCash loans ensures you have the money you need for a fun lake trip. Here are a few water activities that your family can enjoy at the lake this weekend.
River Rafting
River rafting is an exciting way to see gorgeous scenery while taking an adventurous raft trip. You can customize the level of the trip to your capabilities, and if you're ready for a more intense excursion, there are even multi-day trips you can sign up for.
River Tubing
If you're in the mood for a leisure outing, you can't go wrong with river-tubing. Float lazily along the river as you enjoy drinks, snacks, a little music, scenic views, and great conversation.
Fishing
Even if you don't catch anything, fishing is a relaxing way to spend a few hours and spend time with friends and family members. You only need a few pieces of equipment, though you should check to see if you need a fishing license or if there are any laws regarding what fish you can try to catch.
Boating
Boating is a fantastic way to spend the day on the lake. A boat trip can be as straightforward or as fancy as you want it to be. Kayaking or canoeing are terrific alternatives for a more active trip, or if you prefer a motorized option, consider renting a pontoon boat for the day to see all of your favorite lake's best spots. A pontoon boat rental also lets you try out different watersports, like wakeboarding, tubing, or waterskiing. Ensure to follow all local boating laws and have a designated spotter keep an eye on the person in the water at all times.
You can also combine boating with other water activities, like swimming or fishing. A lake mat is a fun way to create a space for jumping and relaxing anywhere in the lake.
Water Games
Like Sharks and Minnows, Marco Polo, and Monkey in the Middle, traditional pool games also make excellent lake games. Make sure to monitor lake depths for drop-offs and dips and have life jackets on hand.
Get Your Water Fun Started
If you're ready to plan your lake weekend, make sure you have the money you need for buying your gear, renting equipment, and making reservations.Installment loans from AmeriCash are fast and easy to apply for, and you can borrow up to $2,500. There are no restrictions on what you use the money for.
Ready to apply?
Visit us online
to start your application!